This might be one of the most exciting offseasons in NFL history. That may sound like the biggest cliche of all time, however 2019 paved way for arguably the greatest defensive draft of all time, and some of the most highly controversial narratives in recent memory (Antonio Brown). Every season, there are always the players who are hyped to reach the next level in their game. Some go from good to elite, others reach the All-Pro level very early, and every season there are those select individuals who are deemed the best at their position after their incredible season.
The upcoming 2019 season is also intriguing, only because there are a few players who may redefine their position due to the quality of their situation and their rising level of talent. This article will go in-depth on offensive players across the league who may reach the elite level in 2019. The players listed in this prediction have already made a name for themselves in the NFL, so the "breakout stage" has been cleared. The way these players were evaluated was once again based on fit, situation, and potential. This is not a ranking system; it's 5 offensive players who can raise their game to top-tier in 2019. Here is my "Making The Jump" offensive quintet for the 2019-2020 NFL season.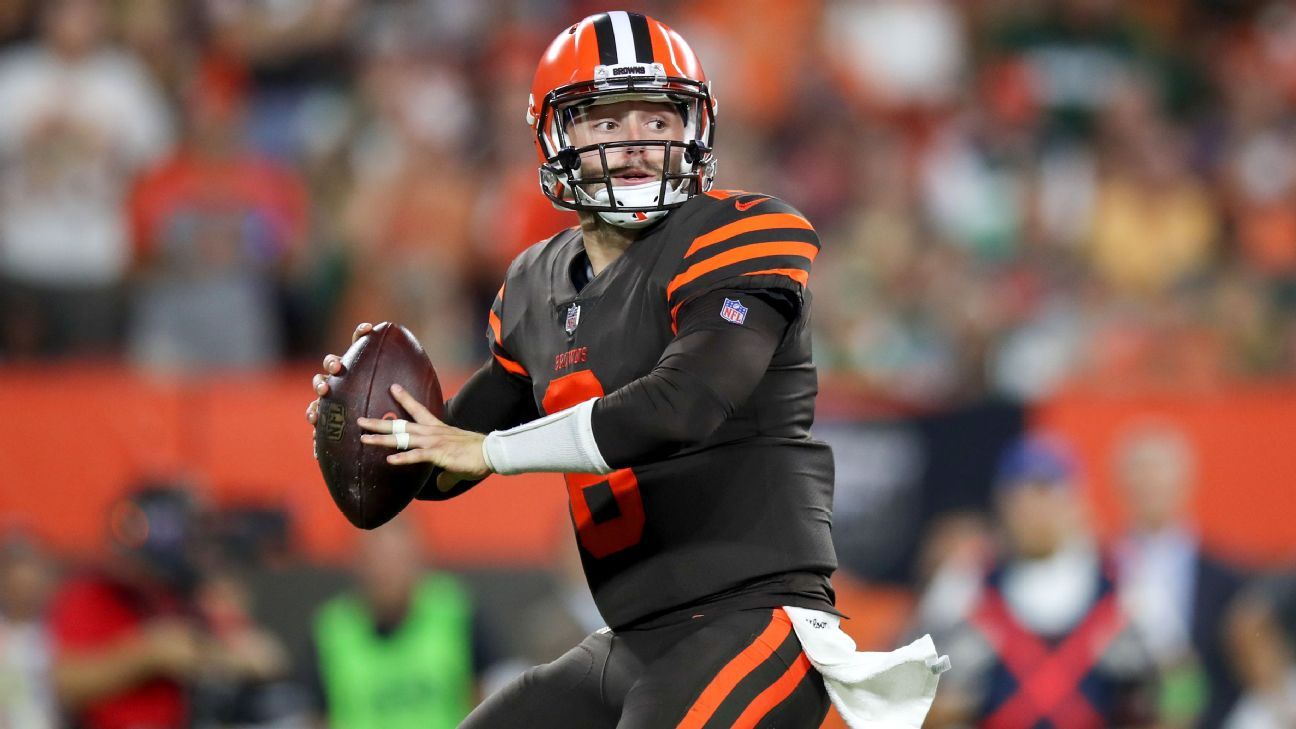 This expectation may be much too high, and I do recognize that this prediction may flop. However, Mayfield is one of the most talented quarterbacks to have entered the NFL in the last few years. While some questioned Browns GM John Dorsey's decision to select him number 1 overall, the former Heisman winner far exceeded his expectations in 2018 while setting the rookie season record for passing touchdowns (27) in just 13 games. Mayfield may have the best situation out of any quarterback in all of football. An incredible running back tandem of emerging 2nd-year player Nick Chubb and former NFL rushing leader Kareem Hunt, the addition of two A-tier receivers in Odell Beckham Jr and Jarvis Landry via trade, and versatile red-zone tight end David Njoku are just few of the weapons available at his disposal, not to mention a powerful offensive line. Current head coach Freddie Kitchens developed a very strong relationship with Mayfield in the 2018 season as his offensive coordinator, and their growth should only feed into the success of this franchise. Cleveland's defense also stacked up over the last 2 or 3 years, which only makes life easier for Mayfield, as he doesn't have to carry an extra burden that could've been the Browns defense. Even though the Browns will only go as far as Mayfield takes them, having a great defense is always an asset to a rising quarterback. This environment is so perfect for the Oklahoma quarterback that Mayfield having an MVP season isn't even bold; he should be the frontrunner, only because of his talent and the pieces surrounding him to lift the Browns out of their decade-long losing slump. Even though their offense should have 2 1,000-yard receivers and at least 40 passing touchdowns, I don't think the Browns' offense will be as explosive as Kansas City in 2018, but they will be very efficient and productive while racking up big plays due to the skill position talent on that offense. However, make no mistake, despite all of the talent surrounding him and the ideal scenario he's in, Mayfield isn't even the face of the franchise; he is Cleveland Browns football through and through.
Fournette's draft hype may not have carried over to the NFL in Years 1 and 2 due to nagging injuries, but there's no doubt he is the Jacksonville Jaguars. That team goes nowhere without his production. Even in his first two seasons, his importance to his team was in full display as the Jaguars went to the AFC Championship game with him rushing for over 1,000 yards through injury in 2017 and had a top 10 pick in 2018 due to Fournette's persistent knee injuries. With the Jaguars in a temporary rebuild (yet again), Fournette's healthy presence will be vital in guiding this franchise back to the days of legendary runners Maurice Jones-Drew and Fred Taylor. Yes, I do quite frankly believe that Fournette can lead the NFL in rushing. With the arrival of former Super Bowl LII MVP Nick Foles at quarterback, former Eagles offensive coordinator John DeFilippo can finally design a gameplan that doesn't have Fournette carrying the Jacksonville offense. Even with the Jaguars having the worst receiving corps in the NFL, an RPO(run-pass option)-heavy offense should be very effective, because the threat of a top 10 runner should frighten the living daylights out of NFL defenses. Successfully running the ball against any defense causes more bodies in the box, allowing Foles to execute play action with his receivers. Easing the developing relationship between Foles and his receivers will help Fournette, as spreading a team out is just another way to improve a running game, as the passing threats remove bodies from the box. Oh, and his offensive line is a whole different story. This unit doesn't need any development or work. They are ready to play from Day 1. The Jacksonville offensive line could even contend for a title as the best run-blocking offensive line in all of football. They may not be as talented as some of the better offensive lines in the NFL (Philly, Indianapolis, New Orleans, LA Rams, Dallas), however age also plays a role. The Jags are one of the youngest lines in the entire NFL, with their bookend 2nd-round tackles being drafted in 2017 and 2019. Jacksonville's offensive line (to no one's surprise) was injured for most of last season, and with the addition of right tackle Jawaan Taylor, this may one of the most dynamic run-blocking offensive lines for the next decade. Left tackle Cam Robinson, who may not be a great athlete, has the strength and power of a tank. He and left guard Andrew Norwell, a First-Team All-Pro in 2017, are the two best blockers the Jaguars have, so most of Fournette's touches should be designed to the weak side. A center's role is unquestionably the most integral for the success of any rushing attack, and Brandon Linder is one of the most underrated linemen in all of football. He's got wonderful feet, excellent raw power, and great athleticism for a player his size. Right guard A.J. Cann may not be a great pass blocker, but he is at worst a decent run blocker, and most probably the weak link on this offensive line. However, the selection (steal) of Jawaan Taylor in Round 2 has solidified the right tackle spot for a decade, an issue from Jacksonville's postseason run in 2017. Taylor is a do-it-all tackle any team would die to have. Excellent feet, athleticism, strength, power, he has everything, and he reminds me so much of Cowboys LT Tyron Smith, who is widely recognized as the best lineman in all of football. If Taylor can reach 50% of that comparison in 2019, Jacksonville's running game may be the best the franchise has ever seen, and considering the rushing attack the Jaguars had in the early 2000s, this potential could reach scary heights in 2019. However, Fournette's situation has improved dramatically since the end of last year, and these Jacksonville Jaguars only go as far as he will take them. If the human battering ram and the rest of his offensive line stays healthy for the 2019 season, this can and will be the best rushing attack in all of football.
Think whatever you like, but the Bengals offense will be different this year. Compared to past seasons, where this team has completely underperformed with elite talent (every playoff season under former head coach Marvin Lewis), Cincinnati's record will look worse to a lesser degree. However, this team isn't the cakewalk that most fans make them out to be, and the main reason for that is their star RB Joe Mixon. The arrival of new head coach Zac Taylor announces the beginning of a new era, and I expect Mixon to be paramount in the near future of this team. Just for reference, the team drafted Alabama offensive tackle Jonah Williams in Round 1, who is a bookend left tackle for this team through and through. While many Bengals fans really wanted Williams to start at right tackle and replace Bobby Hart (the biggest laughingstock in all of Cincinnati), starting Williams at left tackle and moving the powerful Cordy Glenn to left guard makes a formidable run-blocking trio on the left side of that offensive line, anchored by 2018 first-round center Billy Price. For the first time in years, Cincinnati finally has a semblance of an offensive line, which is key for the success of any runner. However, Mixon is no ordinary runner, as his unique pass-catching ability only compounds his elite vision and rushing talent. Just Mixon's versatility makes life for Taylor a lot easier. As the current Bengals head coach comes from a Sean McVay system, replicating the offensive philosophies from that coaching tree would seem like a good idea. In order to accomplish this, three tenets are especially important: a good offensive line, a versatile pass-catching runner, and a comfortable quarterback who could adapt to the West Coast offense. The influx of Glenn, Price, and Williams solidify the left side of the Bengals offensive line, Mixon is the future gem of this Bengals offense, and current quarterback Andy Dalton, even with several mediocre seasons under his belt, is still a quarterback who can play within Taylor's system. This transformation of offensive identity only helps Mixon, as he will be fed touches on the ground and through the air as the only consistent staple in this developing offense. He already showed immense potential last season, with 1450 scrimmage yards and 9 total touchdowns in just 13 starts, all with a porous offensive line and a terrible system. The future is only getting brighter for Cincinnati football, as for once, the Bengals have a player who can carry the franchise on his back. They have an identity, something this franchise has been lacking since A.J. Green's last healthy season in 2016. With Mixon being the heart and soul of this Cincinnati offense, his numbers should elevate to the summit of Mount Everest if he stays healthy. And who knows, even if this team has a sub-0.500 record in 2019 (which they likely will), at least their future is finally secure.
This may be Dallas's season in 2019. Call me a delusional Cowboys fan, but I really do think Amari Cooper will finally cement himself as one of the top receivers in all of football. Cooper was an irreplaceable piece in the resurgence of the Dallas Cowboys offense in the second half of 2018, increasing franchise quarterback Dak Prescott's completion percentage from 62% to 70% and raising his quarterback's passer rating from 87.4 to 101.2, all in just 10 games. Following his contract extension this offseason, Cooper's chemistry with Dallas should only increase over one summer, as their development should only build off his impact on the Cowboys in 2018. The addition of All-Pro center Travis Frederick and receiver Randall Cobb (Mr. Reliable in Green Bay) should only help Cooper, as Frederick's presence immensely improves Dallas's running game, and ace runner Ezekiel Elliott running down the throats of defenses brings more defenders to the box, opening up passing lanes for Cooper's elite speed and league-best route-running ability. Cobb is also a wonderful locker room presence to help Cooper elevate his game to the highest level, and can provide valuable snaps as a reliable slot receiver for Prescott. The speed of the Cooper-Cobb tandem and the length of 2nd-year receiver Michael Gallup creates a fantastic receiving corps for Dallas's future. The hiring of new offensive coordinator Kellen Moore only works in the Cowboys' favor, as he's been working alongside Prescott since Dak's rookie season, and he knows the quarterback's strengths. Moore's system for 2019 will adapt to Prescott's strengths, and one of Prescott's best traits was getting the ball to Cooper over and over again. If not for Prescott spending too much time progressing through his reads and just getting Cooper the ball on every throw (he was open almost every play), Dallas's offense would've been even better than the glimpses of potential showcased last year. Moore's close-knit relationship with Prescott is an incredible asset to Cooper's production, as his job will make the quarterback's life as easy as he possibly can. Making Dak's life easier involves an insane commitment to the running game, because any successful running game can make a quarterback's job easier. When defenses commit more bodies to the Cowboys' rushing attack in 2019, zone-read concepts become bread-and-butter for Prescott, because he is a great runner in space. Passing lanes also become more open as a result of a powerful rushing attack, thus Prescott's reads become a lot easier. Cooper's reception and yard totals should only increase because of Moore's presence, as he is one of the best route-runners in all of football and is almost always open. Thus, Moore should and will make it his job to get Cooper as many touches as possible on a game-to-game basis. Screens, slants (Cooper's best and favorite route), and go routes are all concepts that Prescott and Cooper can execute very well, so Moore's gameplan will be tailored around the quarterback's successes, allowing him to play mistake-free football. A lot of people aren't too high on Kellen Moore due to a lack of experience and merit, however if he increases the chemistry between Prescott and Cooper for the 2019 season, there is no limit to how great this Cowboys offense can be.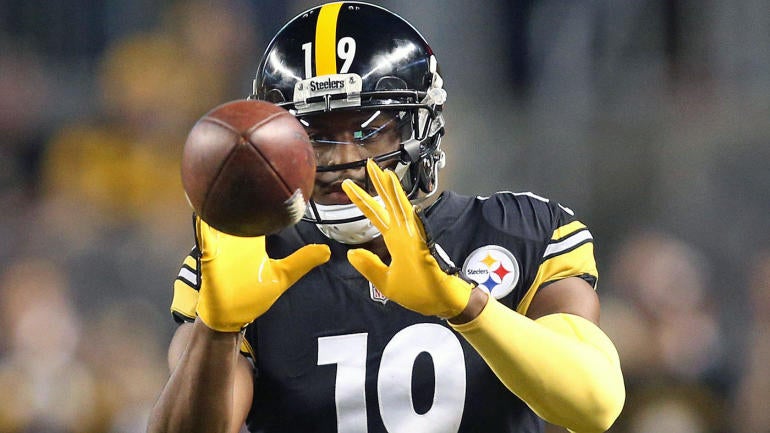 What an incredible first two years it's been for Smith-Schuster. From 2nd-round pick to All-Rookie to Pro Bowl to potentially the NFL's leader in receiving touchdowns in 2019, this improvement, if it happens, may end up being one of the most memorable in the last 5 years. Smith-Schuster is one of the few players in the NFL that anyone would want to lead their franchise. His humility, positive character, and work ethic all feed into his profile as one of the league's most liked players. Not only is Smith-Schuster an angel off-the-field, but he was also one of the most highly productive receiving threats in all of football. Ranking top 6 in both receptions and yards in 2018, Smith-Schuster's volume should only increase in 2019. A powerful rushing attack led by sensational NFL icon James Conner, an aging yet very reliable quarterback in Ben Roethlisberger, and a slowly-developing defense that may just surprise people in 2019 are all at Smith-Schuster's disposal. His game has improved ever since he walked into Heinz Field for the first time, and there isn't much in his way to impediment his path to an All-Pro. Oh, and did I mention the presence of Hall-of-Fame receiver Antonio Brown (now with Oakland) in Pittsburgh for the 2018 season. Despite drawing double coverage from most defenses in the past season, Brown led the NFL with 15 receiving touchdowns, and Smith-Schuster, while still being on the same team as "AB", led Pittsburgh in receptions and receiving yards. While some may argue that Smith-Schuster's presence as the only threat on Pittsburgh may draw a lot of double teams in 2019, the depth and underrated talent in Pittsburgh's receiving corps, along with their rushing attack and top-tier offensive line, will easily convince defenses otherwise. The progress for the 2nd-round pick from USC only lies ahead of him, and with his fixed role as the number 1 receiver on a pass-dominant franchise, Smith-Schuster's touchdown total could even double from last season, just as a result from Pittsburgh's offensive line and running game. If the line can block and Roethlisberger has all day, no amount of quality secondary play (outside of maybe Chicago or Jacksonville) can cover for that long, allowing Smith-Schuster to find spots between zones and reel in easy receptions. Fear-driven respect towards the Steelers' explosive passing game will only open the underneath passing game (screens, slants, curls) for Smith-Schuster, who thrives in YAC (yards after catch) scenarios (2 95+ yard touchdowns in 2 seasons), further allowing Pittsburgh to incorporate more creativity within their playbook. This rare ability to improve a team's culture in practice and the locker room as well as to play a significant role in the success of an offense only spells two words to me: franchise player. All in all, Pittsburgh receiver JuJu Smith-Schuster has it all: character, work ethic, and elite talent. All three pieces blend heavily to create success, and with the removal of toxicity from the Steelers' locker room, this team can and WILL surprise everyone in 2019.
Stay tuned for Part 2…….