6-13-19
With two months until the preseason, there is still a fair amount of time in the off-season to fill in needs with these top players in their positions that are still available. Many teams are still currently suffering with uncertain positions, and therefore, we can determine where these top 10 free agents should land depending on team need and scheme fit.
Eric Berry – Jacksonville Jaguars
After their magic 2017 campaign, the Jaguars suffered drastically, falling to 5-11. Part of the blame can come from the safeties Barry Church and Tashaun Gipson, who gave up plenty of zone coverage responsibilities, causing slot receivers to torch the deep-middle parts of the field. Both safeties departed and that leaves Ronnie Harrison, who stepped up late with an overthrow interception on Mariota before going to I.R. and Jarrod Wilson, who is a backup that has not made any key plays other than tackles. He played as a backup strong safety but will allegedly start at free safety. With a position that uncertain, it would not be out the question to sign Eric Berry, who was rated as arguably the best safety aside from Earl Thomas in years prior, totaling 365 tackles and 14 INT's with 5 returned for touchdowns. The Jaguars definitely have the money, signing players like Terrelle Pryor, Datone Jones and Alfred Blue recently as camp bodies.
2. Tre Boston – Carolina Panthers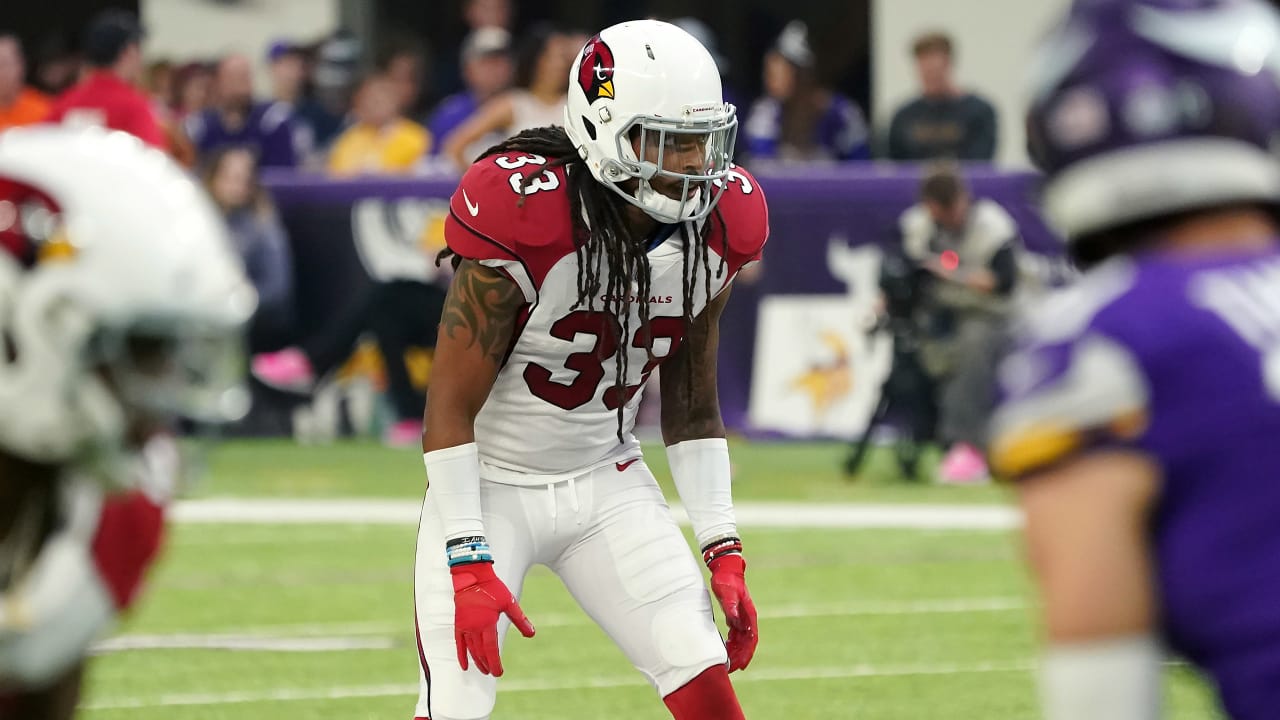 Tre Boston is an odd player. No matter how excellent he produces in a season, it is as if he has trouble finding a team in the off-season. Carolina has had its fair share of awful safety play aside from Eric Reid. There are questions about Rashaun Gaulden, an emerging sophomore-season safety, but there is no telling if he will end up a Kevin Byard or another Rudy Ford. Tre Boston has played in Carolina in the past and totaled 10 interceptions along with 266 tackles in his career, not far behind fellow free agent Eric Berry. It is evident that he can spark the Panthers into contenders. The Panthers recently signed DE Gerald McCoy, as they are likely moving to a 3-4 defense, and from this move, it is easy to tell that Carolina is going all on this off-season.
3. Nick Perry – Miami Dolphins
Clearly, the Miami Dolphins are tanking. That does not exclude the weak roster, however. While they are fully embracing the tank, it would be smart to apply impact players to the roster. Their outside pass rush consists of Charles Harris, who they are leaning on the most, Tank Carradine, and Nate Orchard. DE Tank Carradine has not done a lot since his stint with San Francisco and Nate Orchard is a low-tier journeyman. If they are trying to develop Charles Harris, you need some true help on the other side to give offensive linemen another player to worry about. Teams that rock with only one solid pass rusher, especially in this case when he is unproven, do not succeed in the end. Nick Perry has had a choppy tenure in Green Bay, considering that while he was solid, he has dealt with injuries. This will be smart for Miami, as the 29 year old pass rusher will at least be productive, and can mentor Charles Harris for when the time comes.
4. Jay Ajayi – Houston Texans
In a backfield with Lamar Miller and D'onta Foreman, this can be confusing. Allow me to elaborate. Ajayi is a guy I would label as an all-around back. He can demonstrate power and elusiveness on the field along with catching ability. In a backfield with an aging running-back like Lamar Miller and a young, unproven back like D'onta Foreman who has dealt with injuries throughout his NFL career, this can can give Ajayi a window to make a comeback. He can develop in power running situations and if he plays well, he can take over the starting job in Houston with Lamar Miller potentially being on his way out. D'onta Foreman can also learn a thing or two from him as well, and if he produces, Foreman can take over in Houston just like how Derrick Henry did after week 14 in Tennessee. This would be a win-win scenario acquiring a RB who did it all in Miami and in Philly in 2017.
5. Michael Crabtree – Baltimore Ravens
The Baltimore Ravens have always seemed to have trouble in the receiving core. After drafting Breshad Perriman in 2015, he was soon concluded as a bust due to his inability to consistently catch despite his speed and height. The Ravens then later picked up Mike Wallace along with Jeremy Maclin in which neither of them panned out truly. In 2018, the Ravens signed Crabtree to be their big threat wide receiver. While he did not have much action, he did make necessary plays to help the Ravens get into the playoffs. Both him and John Brown, the Ravens #1 and #2 receivers of 2018 were released at the end of the season. The Ravens since picked up 1st round wide receiver Marquise Brown, who they hope will emerge as a Tyreek Hill-like superstar. There is still no proven #2 receiver besides Willie Snead V, who will be used in the slot. While Lamar Jackson will likely run in most of his passing plays, it would still be smart to get a large receiver to help with deep balls and run blocking.
6. Muhammad Wilkerson – Arizona Cardinals
Muhammad Wilkerson had a very short-lived season in Green Bay. Only recording 5 tackles in his three game season with the Packers, Wilkerson is still a dominant run stopper lineman that should draw interest later in the off-season. Unfortunately for him, it is likely Rashan Gary's and Dean Lowry's time now in Wisconsin. Take the Arizona Cardinals. Their interior is uncertain with Robert Nkemdiche being sidelined for about half of the 2019 regular season. To add on to that, Nkemdiche is likely heading into free agency as the Cardinals declined his 5th year option. Not only that, their other linemen consist of Darius Philon, who was the backup for Corey Liuget in 2018, Zach Allen, an underrated interior pass rusher from Boston College, and aging nose tackle Corey Peters. The Cardinals do not have much to lose after the disaster of a 2018 campaign, and this can give Wilkerson a potential destination.
7. Glover Quin – Tampa Bay Buccaneers
The Lions understandably let go of Glover Quin in a crowded safety room. Glover Quin, 33, is still a solid safety. Totaling 74 tackles and 1 sack in 2018, Glover Quin went off in the year prior with 84 tackles, 3 interceptions, and 4 forced fumbles in 2017. The Buccaneers have not had a strong showing in their entire secondary. Currently, their best corner is Vernon Hargreaves III, who has dealt with injuries majority of his career. The corner-back room was so unpromising that Tampa Bay drafted Sean Bunting and Jamel Dean, despite drafting Carlton Davis and M.J. Stewart in 2018. The safeties? Also a mess. Justin Evans, their best safety has recently suffered an injury, something very common in his now-three year career. That leaves Jordan Whitehead and Kentrell Brice, who were terrible in coverage situations. The Buccaneers are low on cap space, so while it may not be likely with Tre Boston or Eric Berry, they should still aim for Glover Quin.
8. Corey Liuget – Houston Texans
Corey Liuget has not been that productive in recent years. Why is he a top 10 free agent you may ask? Primarily his run stopping ability. The last time he started all 16 games was in 2016 where he totaled not a single sack but 37 combined tackles. That is because he does an excellent job plugging up the middle. Take Byron Jones for example. He is rated as a lock-down corner, yet he did not record a single interception in 2018. The Texans have had their fair share of trouble when it came to finding their 3rd interior player. Joel Heath, Carlos Watkins, and 5th round pick Charles Omenihu are uncertain. Liuget, entering his 9th NFL season coming off an injury can be the perfect candidate for their situation.
9. Morris Claiborne – New York Jets
The New York Jets are destined to go all-in this season. Adding nickel corner Brian Poole and field general C.J. Mosley along with RB Le'Veon Bell, OG Kelechi Osemele and slot receiver Jamison Crowder, the Jets are poised to making a strong push for an AFC playoff run. When you take a look at the corners, there are questions. Trumaine Johnson was obviously overpaid and is still the same cornerback he was in Los Angeles. Darryl Roberts only raises questions, as fans wonder if he can be a true starter, and Brian Poole will revert as the nickelback, replacing Buster Skrine. There is uncertainty at that position, and while Morris Claiborne was not all too flashy, he can still be an ol' reliable for the team as he was last season. The Jets have brought him in during the offseason and it could be very likely that he may make a return.
10. Allen Bailey – Los Angeles Rams
Bailey had a breakout season in 2018. Totaling a 6.0 sacks and 10 QB hits which were all career highs in a season along with a fumble recovery touchdown in what might have been the greatest game of the decade, Bailey is hoping to make a late push in free agency. Take the Rams for example. They now have weak depth in the d-line, losing both Ndamukong Suh and Ethan Westbrooks. While Aaron Donald and Michael Brockers are the ideal starters, there is still question when it comes to John Franklin-Myers. Even if 30 year old DE Allen Bailey will not be the biggest playmaker on the defense, he can still provide support just like he did in Kansas City with teammate Chris Jones.