The NFL has seen some truly prolific wide receivers over its last 100 years. Jerry Rice, Don Hutson, Randy Moss, and Calvin Johnson all revolutionized the wide receiver position in their respective eras, but to this day there has been no deadlier receiving threat than Julio Jones. Throughout his career, Julio has set record after record while single-handedly carrying Atlanta to playoff wins, reinforcing his widely-respected reputation as the league's greatest and most feared do-it-all receiver. Jones' name should also earn just as much respect and recognition as some of the aforementioned Hall-of-Famers because he and his "scheme-proof" production have set the prototype for wide receivers on the field in the next generation.
Athleticism
The first point that most fans tend to bring up with Julio is his sheer athleticism. He was a top performer in the 2011 NFL Scouting Combine, with a 4.39 second 40-yard-dash, 135 inches on the broad jump, and 11.07 seconds on the 60-yard-shuttle run. All of these numbers further illustrate that Julio was and still is one of the best athletes to have ever entered this game. There are also not many corners to this day that can run with Jones. The expectation for him when he entered the league was that he would end up becoming a top receiver, which explains why the Falcons traded up to draft him 6th overall in 2011. He was never seen as a finished product when coming out of Alabama, but his freakish athleticism alone got him drafted within the top 6 picks of what is now called the greatest NFL Draft of all time. Players in this draft include Von Miller, Patrick Peterson, A.J. Green, and J.J. Watt. The play below highlights Jones's athleticism at its finest:
In the second clip, Julio quickly fakes one way to bait the corner into overcommitting too quickly, which sets up a massive advantage in terms of separation when running this dig route. With the ball in his hands, his athleticism is on full display, as he outraces defenders to the pylon, fully showcasing the aforementioned 4.39 speed. Watch as the distance between him and the Panthers defenders increases after he accelerates with the ball in his hands, once again showcasing how quickly his physical gifts helps him accelerate to top speed, and based on this play, it's quite clear that Julio is unstoppable at top speed. There's an argument that athletic ability feeds into every other facet of his game, such as breakaway speed in this example. This aspect is a large part of why he should be considered the prototypical do-it-all receiver for years to come. Not only can he do everything required of a franchise player, but his athleticism, the greatest asset, allows him to execute far better than his peers because his body is better-built to enhance his receiving capabilities.
Awareness/Body Control
The second tenet of Julio's game that exemplifies him among his peers is the way his awareness complements his unparalleled body control. Many NFL general managers and scouts look for balance, especially in the air. His 38.5-inch vertical jump at the combine showed early signs of a do-it-all receiver; one who could not only run away from defenses with the ball in his hands but could also control himself to catch every contested pass in the air and make any quarterback's life easier. Having elite body control is also key for any receiver because it displays their awareness for where they are on the field, where the pass is, and how they can make a play. In Julio's case, look no further than his statement play against the undefeated (at the time) Carolina Panthers in the 2015-16 season, where he led the entire NFL with a whopping 1,871 receiving yards:
Every Falcons fan should remember this play (sorry, Luke). Undoubtedly one of the greatest touchdowns in franchise history, Julio Jones just "mossed" All-Pro linebacker Luke Kuechly in the Panthers' 15-1 season. This catch shows elite body control, as he's able to perfectly time the moment where he secures the catch over Kuechly. With his body suspended in the air as he leaps to make the play, Jones is aware enough to know when he'll hit the ground again and grabs the contested pass. This rare interdependency that the Falcons receiver possesses between awareness and body control is what allows him to flawlessly outexecute his peers and even some of the all-time greats because not every receiver can be this aware of where they are and how best to optimize their bodies. Even in this example, the pass was an interception waiting to happen if not for him, because the pass was inaccurate. However, the way he was able to adjust his body and hands was what allowed him to make the catch in time, saving a near-interception. He jumped at exactly the right time, made a turn 90 degrees counterclockwise, and caught the pass, even before the linebacker had a chance. If he didn't time his jump exactly at that point, the ball would've been intercepted. His ability to complement situational awareness with unbelievable body control is another reason why his prototype will be a future archetype for the NFL's posterity. If a receiver knows how to adjust his body in order to make plays for his team, he can make up for his quarterback's' mistakes, bring in contested 50-50 passes, and morph a potential disaster into a big play. This example epitomizes his ability to do just that.
Route-Running
Julio is one of the most gifted route-runners in the history of the NFL. The two aspects discussed above are most commonly associated with his playstyle, but not many people mention the physicality and crispness of his routes. Not every play can be made in the air, so running refined routes is a key foundation for the success of any wide receiver. Believe it or not, he can also take advantage of mismatches with his route-running, not just through contested catches in the air. Once again, that aspect of athleticism becomes criminally important, because it significantly increases the separation between he and his defender, allowing for more targets and receptions in the open field.
The ongoing matchup between Julio and Sherman was one of the greater receiver-corner contests in NFL history. On this play, he's running a curl, and Sherman's awareness of him running deep is quite evident, as he's off the line of scrimmage by 1-2 yards. Even though Sherman is one of the league's best corners, he has to stop the deep ball at all costs, requiring a very conservative style of coverage. Because his job is to stop Julio from running deep, it allows for the receiver to position himself underneath for easy completion. This route may be a very simple curl, but his athleticism and deep speed are mismatch nightmares for almost any corner, so they overcommit on the deep ball because anything deep is a touchdown if Julio gets even an inch of separation. However, this commitment lets the receiver run a simple underneath route for an easy gain. People may question this catch as one that came off a not-so-complex route concept, but that's entirely the point. Deep speed and athleticism allow him to run these crisp, simple routes for easy completions. To this day there hasn't been a single receiver in league history whose athleticism has scared defenses to the extent where they hand him 10-20 yards underneath just to avoid getting beaten deep. Any receiver would be blessed to possess this kind of speed, foreshadowing his role as a future example for the next generation of NFL athletes.
This route is very similar to the play shown above because Julio runs a route called a stop-and-go against a very conservative cushion (7-8 yards), and once again the corner. A stop-and-go essentially fakes a curl or a comeback route to bait the corner into jumping the possibility of an underneath route, so Julio can fly past an out-of-position defender for big yards. On this route, Eagles defender Jalen Mills gives a 7-8 yard cushion to his receiver, who instantly takes advantage of that by running what looks like a comeback. Because Mills is a very aggressive corner who tries to undercut every underneath route pattern (Eagles' defensive tendencies), Julio can successfully sell the comeback route. As the defender tries to make a play on the "sell", he breaks off that right foot and completes the catch for what should've been big yards (thanks, horrible referees). Notice how the receiver's feet, unlike a lot of others, possess surgical precision as he runs this route. There is almost no wasted movement to the extent that every step in the route has its purpose. This is what makes him such a dynamic route-runner. His athleticism contributes to almost every facet of his game, and it creates separation from the defender within his routes, and because he doesn't clutter his feet, he's open on almost every snap.
The reason these two route patterns are shown together is that they are mirror images of one another. In Clip 1, Julio runs a dino route or a corner post, and in Clip 2, he runs a post corner. The difference between these two route concepts is the way the receiver breaks; in a dino route, the receiver jabs outside and breaks inside, and vice versa for the post corner (receiver breaks outside). However, the one important aspect of these plays is how his head, hips, and feet are all coordinated within their movements. Especially when he sells the break outside or inside (depending on the route), he uses a sharp head fake to trick the defender into believing that the ball is coming. His hips and feet also propel his whole body into selling the bluff. However, as the defender bites, his lateral quickness comes into play once again, as all three elements (head, hips, feet) once again connect to take advantage of the defender taking the bait. He takes a refined step (either inside or outside) to cut in the opposite direction, thus gaining separation from his defender. To fully complete the process, his head and hips are in full coordination as they pivot along the opposite direction, and his body is perpendicular (90 degrees) to the field, opening up a window for a completed pass. Both snaps are easy completions for big yards, because of his natural ability to coordinate his head, hips, and feet, thus gaining separation. From all of these clips, it's quite clear that Julio Jones is one of the most polished route-runners of all time because he's developed such a mastery of all the small intricacies required to optimize the separation he gets from each route. Precise route-running is a necessary weapon in every wide receiver's arsenal, and he's a perfect example of how a larger build doesn't affect the ability to run crisp routes as long as the finer details are refined over and over again.
Movement In Open Field
Another underrated element of Julio's game, when compared to all-time greats, is his open field movement with the ball in his hands. Whether it's sprinting past 4 defenders on a simple dig route (very first clip of this article) or stiff-arming 3 helpless defensive backs on the way to the end zone, he always has the potential to turn any simple route into a big play, and there is no better example of that than in the 2017 NFC Championship against the Green Bay Packers.
Julio's speciality strikes once again: the dig route. Even while being held, he modifies his dig route to get through the contact, and once again, he's able to create a lot of separation from his defender. Once the ball gets to him, however, he straight-up sprints through a potential tackle out for which the defender completely whiffs. As the safety tries to bring him down, he throws out a stiff arm and that defender is stonewalled. Keep in mind, he's running like a cheetah, and he barely breaks a sweat as he sprints to the end zone. This clip is another great example of what makes him the perfect example for any receiver. Playmaking is a necessity at almost every position, but he can move like a running back with the ball in his hands. He's one of the toughest players to tackle in league history and, when he's in open field sprinting like a gazelle, trying to stop him is futile.
Clutch Factor
However, the one aspect from Julio's game that any receiver would want to embody is his clutch factor. Just for reference, he has the highest average for playoff receiving yards per game with 104.3, including two playoff games with over 180 receiving yards, asserting the idea that Jones shows up in the most integral moments. According to Pro Football Focus, he had the highest game grade for any receiver to have performed in a Super Bowl since 2006 (PFF's first official season) with 91.5, so commenting about Julio's average touchdown production doesn't deny his ability to make big plays whenever his team needs him the most.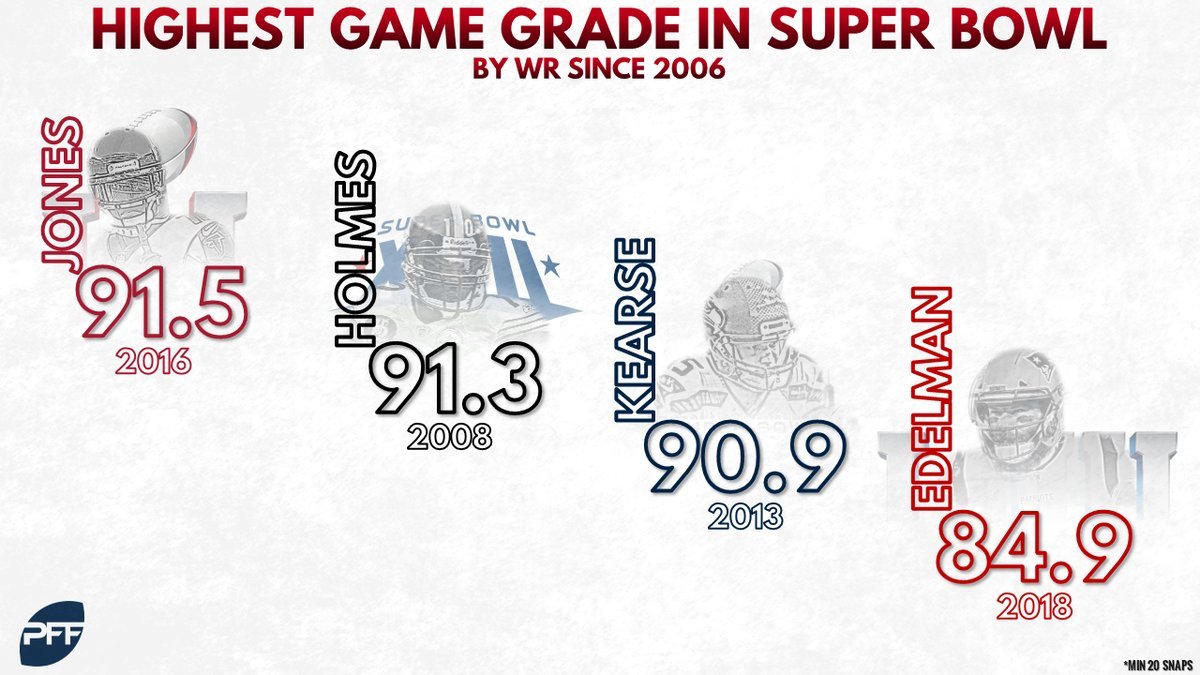 In Super Bowl 51, the Atlanta Falcons infamously blew a 28-3 lead and have been ridiculed ever since. However, Julio Jones made arguably the greatest Super Bowl catch in NFL history, and one of the most forgotten game-changing plays of all time.
The sheer ridiculousness of this catch cannot be put into words. He runs a post-corner and snags the ball with his defender in perfect position. The craziest thing about this catch isn't that it was made in the Super Bowl on an important down, but that he had the awareness and the body control to haul in a perfectly thrown pass in the air while dragging his toes on the sideline. Not only does this catch highlight most of he's aforementioned freakishness, but it also emphasizes the fact that he's one of the greatest playoff performers to have ever played this game, regardless of position. EVERY football player, current and future, wants to have a moment like this, especially on a stage where all can witness true greatness.
Conclusion
The great defensive tackle Gerald McCoy said it best, "Julio Jones is a mutant. I do feel like he was born out of an egg, generated, and then put together." While this is the ultimate testament to Julio's current game, there should be no concerns about his future. The only remaining question isn't IF he can be the greatest receiver of all time; it's when he can be the greatest receiver to have ever played this game.