by: Jay Beirne
Entering week 3, the Jaguars were a for-sure favorite to dominate in the playoffs in the 2018 season, after topping New England 20-31. Nothing was going to stop them but themselves… and that is exactly what happened. The Jaguars fell down a deep hole that they could not recover from, as their offense crumbled like a burnt cookie. The offense finished 31st in scoring, only putting up 245 points in the season, with Arizona being the only team worse, putting up 225 points. The Jaguars also finished 27th in yards, totaling 4,832 combining passing and rushing yards. Defensively, #sacksonville stood tall, finishing top 5 in yards allowed, with 4,983. The pass defense led by big mouth Jalen Ramsey only allowed 3,113 yards, second to Buffalo's pass defense who only allowed 2,867 yards, and the Jags finished 4th in scoring, only allowing 316 points. The Jaguars were a team that was low on cap space SEVERELY entering the 2019 offseason, and are on the crossroads of a rebuild or a breakout season. The result? We will have to find out at the end of this upcoming season. Let's get started on looking at who the Jacksonville Jaguars lost.
Key Departures:
Offensively, they continue to go from bad to worse, losing starting RT Jermey Parnell to free agency. Along with him, the Jags bid farewell to starting TE Austin Sefarian-Jenkins, RB Carlos Hyde, RB T.J. Yeldon, and WR Donte Moncrief. The Jaguars brass have also had enough of Blake Bortles antics, and cut the cord loose on his 3-year deal, absorbing a $16.5 million dead cap hit. There has also been talks of Fournette being released or traded from the organization, due to his actions in week 12 when he was fighting with Shaq Lawson and his position on the sidelines in week 17 when he was avoiding sitting with his fellow teammates. Fortunately for the Jags, they opted to keep Fournette after all of this. Defensively, #sacksonville cut DT Malik Jackson loose from the juggernaut defense along with FS Tashaun Gipson and SS Barry Church. Telvin Smith also decided to step away from the game in 2019 to "contemplate about his life". With so many key losses on both sides of the football with an "okay" amount of cap, how would the Jags rebound from this point?
Key Acquisitions:
Sadly for Jacksonville, they had a lot of holes that needed to be filled, and with that, they needed to resign Jalen Ramsey, Myles Jack and Yannick Ngakoue. What route did they take? The Jags bring in Philadelphia's former Offensive Coordinator John DeFillipo and signed Superbowl 52 MVP Nick Foles to a 4-year, $88 million dollar deal. To help out their receiving core, which mainly relied on the struggling hands of Keelan Cole and D.J. Chark as well as injured receiver Marqise Lee (excluding reliable receiver Dede Westbrook), the Jaguars snag Chris Conley from Kansas City in free agency. They also bring in TE Geoff Swaim and resign OG A.J. Cann offensively. With the disappearance of Telvin Smith, the Jaguars sign LB's Jake Ryan and Ramik Wilson. Strong safety Jarrod Wilson was also signed to a 3-year deal.
Jaguars Draft:
Ideally, the Jaguars were projected to go offense-heavy in the draft, getting blueprinted to draft OT Jawaan Taylor, WR D.K. Metcalf or TE T.J. Hockenson in the first round. Instead, they take advantage over a top 3 player dropping to the 7th in edge rusher Josh Allen. This opens up fear towards their defense, as they stole a monster of a player who over-achieves on the pass rush while he can also play in coverage. Speaking of Jawaan Taylor, as stated above, the Jaguars stole another player, taking him in the 2nd round to fill in the gap at RT. The Jaguars then go for underrated TE from San Jose State in Josh Oliver, and Murray State LB Quincy Williams, which was a surprising pick, as he was projected to go undrafted.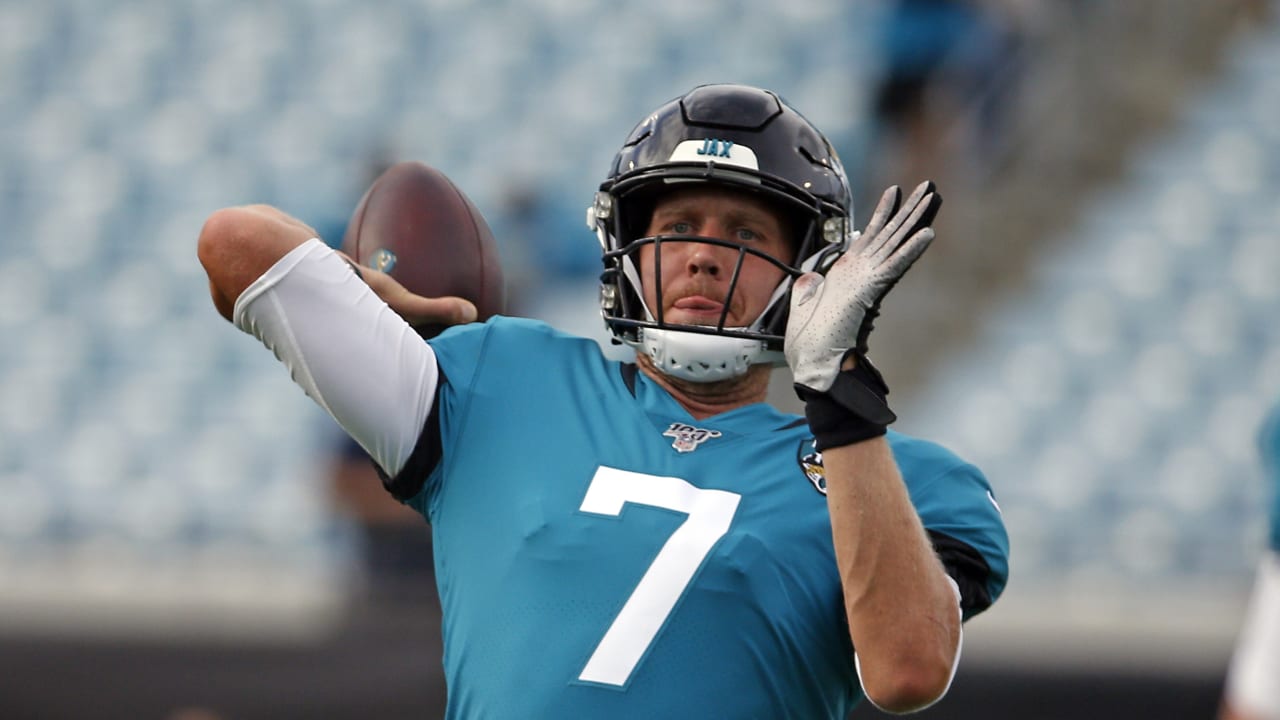 Final Notes:
The Jaguars definitely filled in a majority of their holes on both sides of the field, however all they lack is performance. Will these picks and signings for-sure pan out? Let it be known that Nick Foles did not succeed well with other teams, and the Eagles offense did have a top-tier offensive line, a Probowl tight end, and solid receiver rotation which are all things the Jaguars are less at. The Jaguars will be starting plenty of questionable players on offense such as LT Cam Robinson, returning from a torn ACL, RT Jawaan Taylor, and maybe TE Josh Oliver. Even on defense, there is no telling how Quincy Wilson will perform after getting drafted very high. The safeties had very little work done as well, starting Ronnie Harrison at SS and Jarrod Wilson at FS. Taven Bryan is someone that has been very forgotten and has the potential to break out with the departure of Malik Jackson. Will he? Better yet, will the fan favorite #sacksonville rise up and take the AFC South again?
Record Prediction:
From all the information we have, the Jaguars will be projected to finish 4-12.
Week 1 Vs. Chiefs L | Week 2 @ Texans L | Week 3 Vs. Titans L | Week 4 @ Broncos W | Week 5 @ Panthers L | Week 6 Vs. Saints L | Week 7 @ Bengals W | Week 8 Vs. Jets W | Week 9 Vs. Texans (London) L | Week 10 Bye | Week 11 @ Colts W | Week 12 @ Titans L | Week 13 Vs. Buccaneers L | Week 14 Vs. Chargers L | Week 15 Vs. Raiders L | Week 16 @ Falcons L | Week 17 Vs. Colts L