Who would have thought the Buccaneers would take such a dark turn after the near playoff appearance in 2016, excellent 2017 off-season, and the 2017 Hard Knocks campaign. Falling 5-11, the Buccaneers have been consistently a disappointing team, not making the playoffs in 10 years. The Buccaneers, or as their performance would call them, "The Stomach-churning Swashbucklers" have always been known to be yes, awful, but a mystery. Is Famous Jameis truly a bust? Will the defense ever step up? Just how good is this offense? Well, we're not here to answer those questions, but rather, "build it up". Let's take a look at the ideally sinking or miraculously sailing pirate ship in Tampa, Florida.
Key Departures:
The Buccaneers entered the 2019 off-season extremely low on cap-space. In February, before free-agency would ultimately begin, the Buccaneers were $17 million under salary cap. With something like that, there needs to be corrections made. The team was in a tight spot. They were already atrocious in the gridiron and to top it off they had one of the lowest cap spaces out of all 32 NFL teams. What will be done to fix this? The termination head coach Dirk Koetter is what. He could not motivate the locker room good enough and come up with winning game plans. You got the coaching piece of the puzzle complete, now what is to be done about salary cap? Letting go WR Adam Humphries and shipping off DeSean Jackson to Philly is a start. Defensively, the cap casualties will sadly include long-time Buccaneer DT Gerald McCoy, CB Brent Grimes, and star MLB Kwon Alexander. Some silent departures include DE Vinny Curry, FS Andrew Adams, and FS Chris Conte. Additionally, LB Kendall Beckwith's career is in jeopardy from an injury suffered in a car crash in April of 2018. After the string of moves, the Buccaneers would have $15 million cap space, according to the NFL.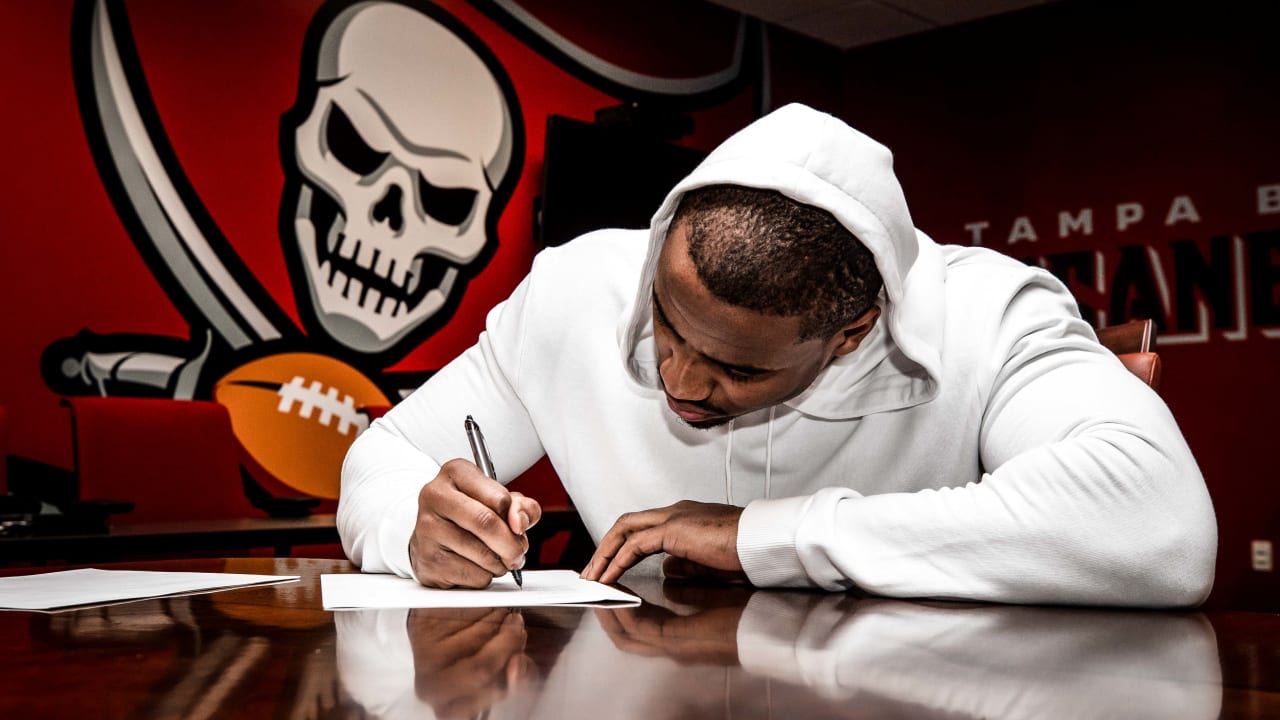 Key Acquisitions:
To begin their hunt for talent, the Buccaneers needed a culture change. Phenomenal head coach Bruce Arians opted to climb out of the retirement hole and coach the Bucs. He would then bring in his old squad from Arizona to coach the team, including Byron Leftwich, who will serve as the offensive coordinator and Todd Bowles, who will serve as the defensive coordinator and move the Buccaneers into a 3-4 defense. The Buccaneers then signed some former Cardinals players including LB Deone Bucannon, RB Andre Ellington, and brought back current Buccaneers and former Cardinals LB Kevin Minter. Besides those moves, the only key players that arrived was WR Breshad Perriman, OLB Shaquil Barrett, DL Ndamukong Suh and SS Kentrell Brice. Here is where things tend to shake up. The Bucs brought back LT Donovan Smith with a 3-year, $41.5 million extension. According to ProFootballFocus, he had 7 penalties and allowed 8 sacks which was 5th most in the league. Was that contract for Jameis WInston's blindside blocker worth it? Another odd move was resigning GM Jason Licht to a 4-year extension with a 5th year option. In his 5 seasons with the Bucs, he has compiled a 27-53 record. Please note that he picked Vita Vea over Derwin James when the Buccaneers are extremely weak in the secondary.
Buccaneers Draft:
After having a rough draft in 2018, going with NT Vita Vea, RB Ronald Jones II and CB Carlton Davis as some of their first picks, the Bucs needed to ace this 2019 draft to make up for the positions they missed. Their 1st round pick involved the ideal Kwon Alexander replacement at LB in Devin White, who was also an LSU standout just like Kwon Alexander. Their next three picks were all dedicated to the secondary, with the additions of CB Sean Murphy-Bunting, CB Jamel Dean, who posted the fastest speed on the 40 yard dash in the NFL combine, and S Mike Edwards.
Final Notes:
The Buccaneers are either looking for a bounce-back season, or a rebuild. The main expectations are for Bruce Arians to come up with a good jump start for the team so that they can get consistent success in the future. They are also looking to bring out the best in QB Jameis Winston and RB Ronald Jones II, who have both disappointed on offense. LT Donovan Smith would need to prove that he can be reliable excluding his snap count. Will Carl Nassib and Shaquill Barrett step up in the absence of Jason Pierre-Paul after suffering an injury in a car crash this off-season? Will this defense as a whole build up? Hopefully in these first string of games, questions will in fact be answered.
Record Prediction:
From all the information we have, the Buccaneers will be projected to finish 7-9.
Week 1 Vs. 49ers L | Week 2 @ Panthers L | Week 3 Vs. Giants W | Week 4 @ Rams L | Week 5 @ Saints L | Week 6 Vs. Panthers L | Week 7 Bye | Week 8 @ Titans W | Week 9 @ Seahawks W | Week 10 Vs. Cardinals W | Week 11 Vs. Saints W | Week 12 @ Falcons L | Week 13 @ Jaguars W | Week 14 Vs. Colts W | Week 15 @ Lions L | Week 16 Vs. Texans L | Week 17 Vs. Falcons L