New York Jets, Week 1: Stock Up, Stock Down
The New York Jets kicked off their NFL season against the Buffalo Bills this past weekend. In an abysmal performance, there were some positives and negatives to come out of the game. Let's take a look at the Jets' post-loss stock report:
Stock Down: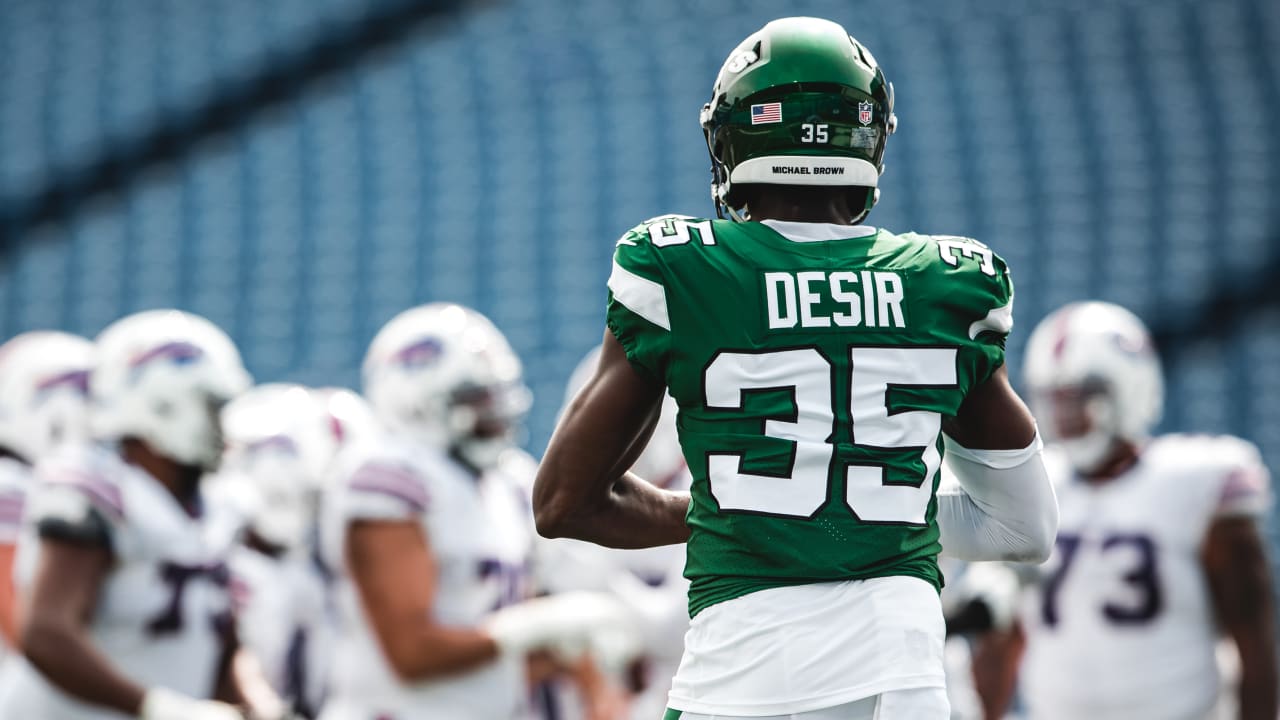 Pierre Desir: Where do I start? The New York Jets desperately needed to upgrade the cornerback room this offseason. To do so, they signed Pierre Desir to a 1-year deal worth up to $5.5M.
After a down year in Indianapolis, the Jets were banking on Desir to return to 2018 form, where he allowed 614 yards and 5 TDs in 15 games, while also raking in 2 INTs and 8 PDs. Not great by any stretch of the imagination, but Jets fans were almost certain Desir would be an upgrade to the prior horrendous 2019 cornerback room.
Unfortunately, that was not the case, and Desir did his best Trumaine Johnson impersonation this weekend.
Desir only saw the field for 35/87 of the defensive snaps. In those few amount of snaps, Desir allowed Josh Allen to go 4/4: throwing for 43 yards, 2 first downs, and 2 touchdowns, while also being penalized twice. He was benched early on and replaced by recently cut-and-resigned cornerback Nate Hairston. Desir was given a whopping 28.9 grade in coverage, per PFF.
Short camp and the possibility of not being 100% healthy may be to blame, but there is no way of sugar-coating it. Just an overall horrific performance by the newly signed CB.
Sam Darnold: Even the most biased Jets fan can't deny the fact that Darnold was nowhere near good this past Sunday. Early in the game, the only thing the offense could do was go 3-and-out. Missed throw after miss throw, drop after drop, the offense could never get it rolling.
Darnold's stat line may not look the worst: going 20/35 (60%) for 215 yards, 1 TD, and 1 INT, but the numbers are deceiving. Take away the Crowder 69-yard screen TD, and Darnold only throws 146 yards on 34 attempts. That would be 4.29 YPA. Is it fair to play that game? Maybe not, but it's telling. One specific play, the interception, was mind-boggling. Darnold threw a jump ball, cross body on the run, to 5'8" slot wide receiver Jamison Crowder. After 2 full years in the league, and entering his 3rd, you never expect a throw like that from a quarterback like him.
Another concerning play, came when Darnold scrambled to his left and took a sack. Jamison Crowder was wide open up the field. Darnold has made throws like that numerous times in the past. What has changed since then to cause this?
His mechanics seem to have regressed since he entered the league, his footwork was bad, and he just generally looked uncomfortable in the pocket. The fact that Darnold was better in a 2-minute drill makes you wonder if he's overthinking during games.
In Darnold's defense, he was playing with a completely new wide receivers corps and an almost completely new offensive line for the first time, while also having Adam Gase as his play-caller. It is nowhere near time to jump ship on Darnold, but many expected better from the 3rd year quarterback.
Le'Veon Bell: 2 years ago, the Jets signed Bell to a mega-contract, paying him $52.5M over 4 years. The talent has never left Bell, but he has been nowhere close to the running back he was in Pittsburgh. He simply just does not fit this team and its scheme. The transition from the mighty Steelers offensive line to a bottom 5 Jets offensive line has not been a pleasant one for Bell.
On Sunday, Bell rushed 6 times for 14 yards. That's a little over 2.3 YPC. The current Jets line is just not capable of supporting his running style, and I don't think it ever will be. In contrast, 37-year-old Frank Gore rushed 6 times for 24 yards, which is 4.0 YPC. The difference between the two backs? Their running styles. You have a patient running back in Bell and a north-to-south running back Gore. One player is more efficient than the other.
Bell proved to be helpful in the passing game, hauling in two balls for 32 yards but is yet to come close to living up to his contract.
Stock Up: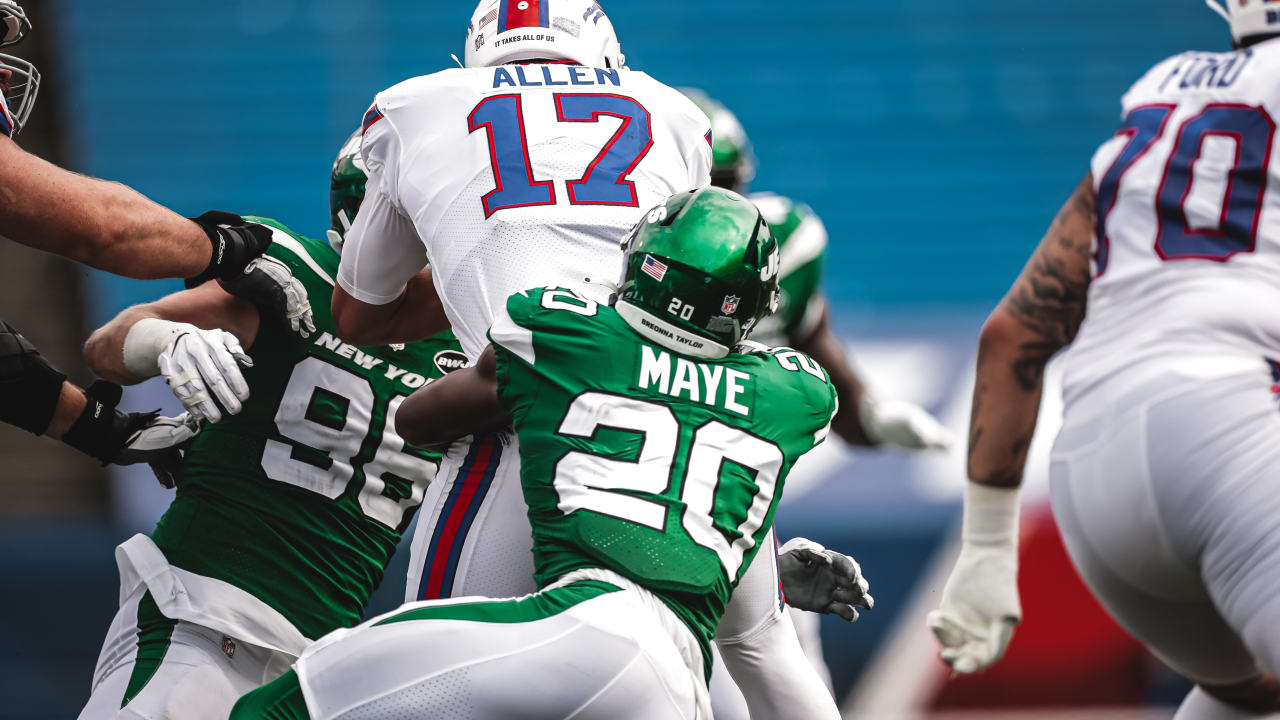 Marcus Maye: Jamal, who? The Jets traded superstar safety Jamal Adams this offseason to the Seattle Seahawks and received a haul. The player to take his spot? Free safety Marcus Maye.
Maye, who mostly played in coverage last season when Adams was a Jet, transitioned to strong safety and has had his role expanded this offseason after the blockbuster trade.
It's fair to say Marcus Maye was not bored. This past Sunday, Maye had a monster game totaling 2 sacks, 2 TFL, 2 PDs, 1 FF, and 10 TOT. There has never been a stat line posted like this by one player in the history of the New York Jets franchise. On just 7 rush snaps, Maye recorded 3 pressures and 1 batted pass.
Maye made the most of his new expanded role and was easily the best Jet on the field. He was one of the few positives to come out of this week's game.
Bless Austin: One of the few highlights of GM Mike Maccagnan's tenure as a Jet was drafting late-round cornerback Blessuan Austin.
Austin, who immediately impressed when he saw the field, also had an amazing game, allowing 3 catches for 12 yards and one first down over 52 coverage snaps. He recorded an amazing 0.23 yards allowed per coverage snap (Michael Nania).
Cornerback has been a major issue for the Jets for a while now. Seeing a good game from a young corner is the exact thing Jets fans want to see.
Austin also played a physical game. On Sunday, he ranked second amongst cornerbacks with three run stops.
The 24-year-old cornerback has a promising future in New York and everyone is excited to see what he is capable of.
Mekhi Becton: The moment fans have been waiting for: to finally see first-round rookie LT Mekhi Becton play.
With no rookie camp, no OTAs, and no preseason, Becton was at a disadvantage. On Sunday, Mekhi faced speedy Jerry Hughes and Mario Addison. Although the let up one sack, which was a coverage sack, Becton had a great debut in the green and white.
Posting an overall grade of 77.2 (PFF), Becton ranked 11th best among all tackles in week 1. He also posted a 72.8 pass-blocking grade and a 77.4 run-blocking grade. As a rookie, with the situation he has dealt with, that is very impressive.
Mekhi Becton is also a pancake machine. The Jets had just two 5+ yard runs this past Sunday. Any guess what direction the plays were run? You got it, right behind 6'7" 370 pound Mekhi Becton.
Becton has a tough list of opponents in the coming week: Nick Bosa, Justin Houston, Bradley Chubb, Chandler Jones, Joey Bosa, and Melvin Ingram. It will be an amazing test to see what the young stud is capable of. If he hits some rough patches of play, fans cannot lose hope. There are always growing pains for rookie OTs when transitioning from college ball to the NFL. Not to mention the completion Becton is facing.
We are all excited to see what Becton is capable of doing in the years to come.
Blake Molinari