Good assistant coaches are a must-have for successful NFL teams. Having a good mentor or teacher is extremely helpful to players, and that is what good assistants do. Schemes and game plans are usually orchestrated in part by assistants and if these plans are good, it usually results in a win. Great assistant coaches are extremely valuable to teams in more ways than one. Here are some of the most beneficial assistant coaches in the NFL right now.
Offensive Coordinator: Eric Bieniemy
While it's hard to tell how much a coach benefits from his players (and the other way around), Eric Bieniemy of the Chiefs has consistently had one of the more creative offenses in football. In recent years his creativity has brought success to the Chiefs and they remain one of the most dominant offenses in football. Many thought that he would leave to take a head coaching job elsewhere because of his success running the Chiefs offense but it is now expected that he will stay in Kansas City to try and pursue another Super Bowl. Bieniemy will be able to showcase his football genius yet again, and regardless of whether it gives him a head coaching spot or not, he and the Chiefs will remain must-see-TV.
Quarterbacks coach: Ken Dorsey-Bills
The year quarterback coach Ken Dorsey took over in Buffalo was the year Josh Allen broke out. After a subpar rookie season, Allen was able to turn it around with Dorsey. He totaled 3,000 yards that year and last year he improved to 4,000 yards. Allen's development has been set on a much better path by Dorsey and it shows in the dramatic difference in play.
Running Backs coach: Bobby Turner-49ers
Bobby Turner joined the 49ers the same year Kyle Shanahan was hired and the two have had some of the best depth at the running back position ever since. Take the 49ers' 2019 Super Bowl run, for example, they had three running backs who broke the 500-yard rushing mark. During that season the 49ers relied on their running game so much that only three players had above 400 yards receiving and those players only had a total of 11 receiving touchdowns. Their rushing attack led them all the way to the Super Bowl, where they lost a close game to the Chiefs. They were the only team in the league with three running backs that all rushed for 500 yards or more (Bills and Ravens each did it but had two runningbacks break that mark and one quarterback). Their depth has consistently been top of the league and Bobby Turner is the reason for it.
Wide Receivers coach: Eric Yarber-Rams
Even with below-average receivers and a struggling quarterback, the Rams have been able to successfully pass the ball. Some of this is a result of their passing game coordinator Shane Waldron but Eric Yarber has been able to teach his receivers the complex playbook well. Lots of motions and jet sweeps are what make the Rams playbook so difficult to defend against. Even without the star power, they are very hard to game plan against because of all of these movements. Although they don't put up lots of flashy numbers, the complexity of their offense is why Yarber is so good at his job. You rarely see a false start on a Rams receiver, and missed blocking assignments or dropped passes are very rare sights as well. All the receivers know their job, and they are all able to do it well. All of that is a direct result of Yarber's excellent coaching.
Linebackers coach: Adam Zimmer-Vikings
Adam Zimmer, son of Mike Zimmer, has accomplished lots in his time in Minnesota. He has coached and mentored guys like Eric Kendricks and Anthony Barr and led them to success. He has consistently given the Vikings one of the better linebacker cores in the NFL. While very few teams have one coach for both outside and inside linebackers, Zimmer does and he does it well.
Offensive Line coach: Adam Stenavich-Packers
Even though Adam Stenavich has only been with the Packers for two seasons, he has certainly established himself as one of the top assistant coaches in the league. Much of the Packer's success last year was made possible by Stenavich's contributions to the offensive line. During the 2020 season, the Packers gave up only 21 sacks (tied for second-lowest amongst all teams) and Rodgers was sacked on just 4% of his passing plays. The Pack managed to do this while dealing with o-line injuries all season that forced them to shuffle around their starting line almost every game. Star tackle David Bakhtiari played only 758 snaps all season due to injuries but Stenavich was able to minimalize the problem and the Packers' protection continued to play well until the season ended.
Tight Ends coach: Justin Peelle-Falcons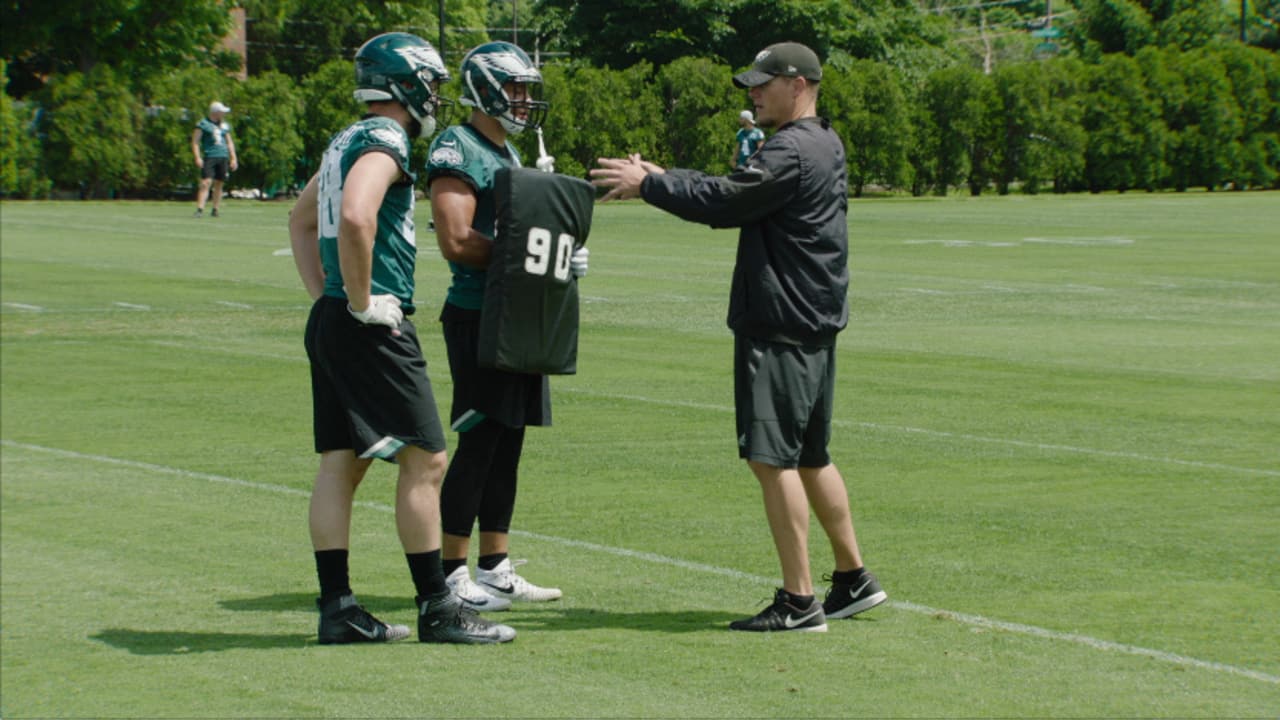 Justin Peelle is one of the only coaches on this list who switched teams recently, as he was just signed to the Falcons where he will have the pleasure of developing Kyle Pitts. Before this signing Peelle was on the Eagles where he played big roles in developing Zach Ertz and Dallas Goedert. These two tight ends were critical pieces in Philidelphia's 2018 Super Bowl-winning roster. Peelle's coaching was extremely beneficial to these player's careers and they have each turned into pro-bowl caliber tight ends. With a generational talent in Kyle Pitts who has seemingly limitless potential, Justin Peelle can work his magic yet again, this time in Atlanta, and give the Falcons the all-pro tight end they wanted.
Defensive Line coach: Karl Dunbar-Steelers
In the years since Karl Dunbar took over as the Steelers defensive line coach, the team has consistently had one of the best defensive lines in the NFL. In all of Dunbar's seasons, the Steelers have ranked top 10 in QB pressures, and have ranked either first or second in sacks. They've also allowed fewer than 4.4 yards per carry which is well above average. Overall, the Steelers have had a phenomenal defense from 2018 to now and Dunbar's defensive line has been the focal point each season.