The NBA bubble seeding series was home to many great games. Along with these incredible thrillers, the fans saw so much talent and heart on display. We had a team come out of nowhere and also saw some players turn the switch on and takeover the games they played. Deciding on what players deserved to be on the All Bubble team was a little hard, and some great talent might be snubbed. For the main awards, it came down to what player really gave their all for the team and who looked better than what their stats might say. (Note; in the time of writing this some teams haven't played their last game but their stars would have been out anyways.)
BUBBLE MVP: Damian Lillard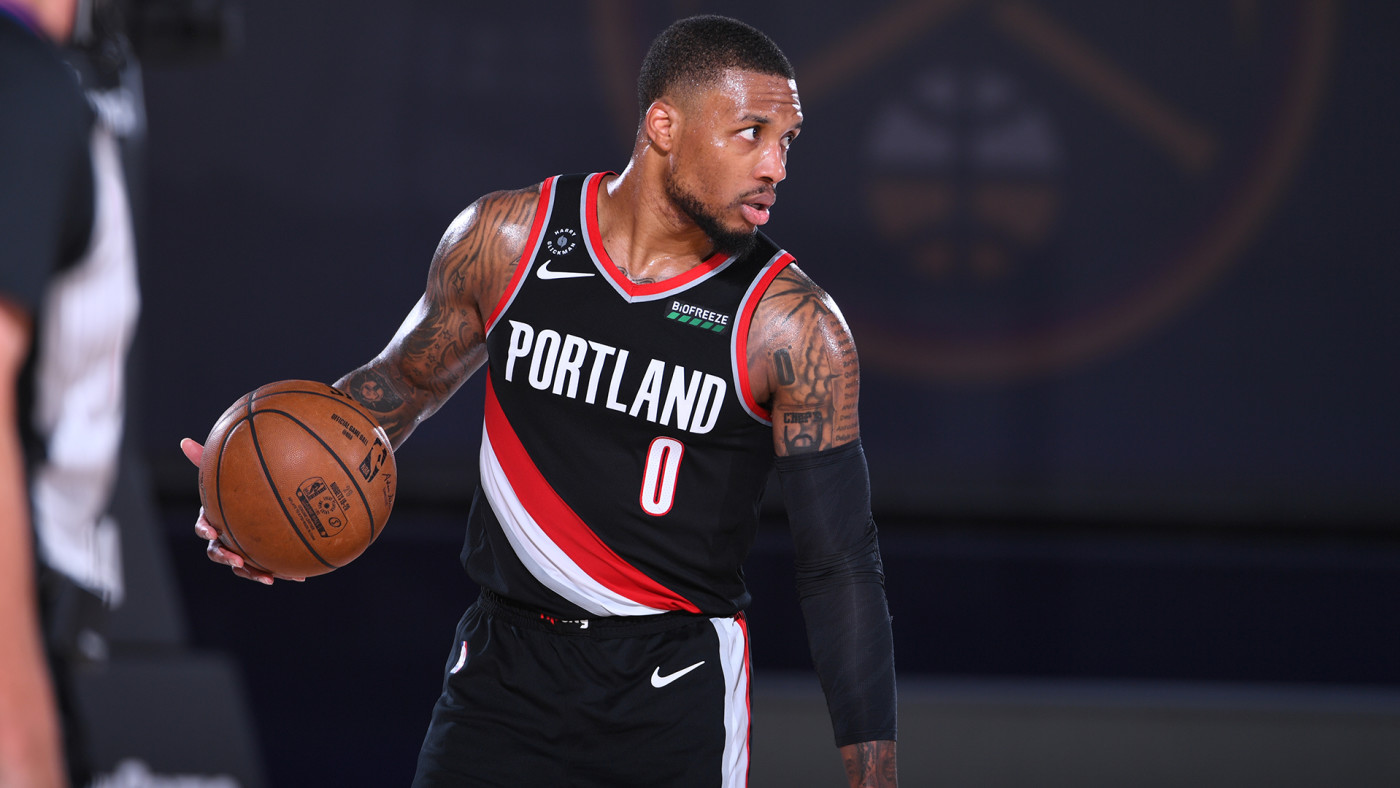 Damian Lillard: 37.6 Pts 9.6 Ast 4.2 Reb 1.3 Stl 0.1 Blk 48.9 FG % 78.5% FT 6-2 Record
Whoever tweeted at Damian Lillard and told him his team wasn't going to make noise in the bubble should be put on trial for his lack of faith in Lillard. In the very last bubble game, with his team's playoff chances on the line, Lillard dropped 42 points and 12 assists to help beat the Nets by ONE POINT. Undoubtedly the best point guard in the bubble and maybe the league, it comes to no surprise to see Dame finally gain respect from fans everywhere. He is the first member of the All Bubble team and his stats help argue that. He came into the bubble saying he wasn't going to play his heart out if they didn't make the playoffs, and as of right now the Blazers are firmly in the drivers seat behind Dame's incredible run. Portland simply wouldn't be where they are without Lillard.
MOST IMPROVED PLAYER: TJ Warren
TJ Warren: 31 Pts 2 Ast 6.3 Reb 1.3 Stl 1.1 Blk 56.3 FG % 83.4 FT % 5-2 Record (out for game 8)
TJ Warren was a mad man in this bubble. He was traded from the Suns for "cash considerations" and basically waved off as just another casual player. His first game in Orlando saw Warren drop a career high 53 points in a huge win against Philadelphia. Most players on the All Bubble team could have been expected, but TJ's growth from pre-hiatus to now is absurd. He is without question the Most Improved Player in the seeding games and well worth the second spot on the All Bubble team.
ALL BUBBLE TEAM: The 3 Other Members
Devin Booker
Devin Booker: 30.5 Pts 6 Ast 4.8 Reb 0.5 Stl 0.2 Blk 50.1 FG % 92.7 FT% 8-0 Record
Devin Booker has played an insane 8 games for Phoenix. His team as a whole has played remarkable but Booker proved just how much of a bucket and leader he is. On a young squad who many wrote off (some even said they would go 0-8), Devin Booker sort of embraced his haters and put his head down and his stats went up. He is unarguably the best player on the Suns and although his team didn't move on despite being undefeated, he earned his spot on the All Bubble squad.
James Harden
James Harden: 35.3 Pts 8.6 Ast 9.1 Reb 3 Stl 0.8 Blk 52.3 FG % 90.2 FT % 4-3 Record (No 8th Game yet)
Was there ever any doubt on Harden making it to the All Bubble honors? His team doesn't run a center in the starting 5 and he is without Russell Westbrook and Houston's 6th man Eric Gordon, yet "The Beard" is still going insane in Orlando. He has the second highest average for ppg but he does everything his team needs of him to win whether that be facilitating the ball more, or using his active hands on defense to create turnovers. Many question his game and how he gets points, but not many players are as dedicated to the game and winning as James Harden is.
Kristaps Porzingis
Kristaps Porzingis: 30.5 Pts 2.1 Ast 9.5 Reb 0.8 Stl 1.5 Blk 48.1 FG % 89.6 FT % 3-5 Record
I understand this will generate a lot of hate, but I assure you I got the right Maverick's player here. We all love the Slovenian Sniper Luka Doncic, but we haven't seen this Kristaps in a long time. He was averaging just over 20 points with over an assist and under 43% shooting this season before the pandemic struck the NBA. Now, he is boosting his stats across the board and playing his best stretch of basketball in his entire career. Luka Doncic was expected to make it to this team, but if Porzingis wasn't playing like this I would have been worried for Dallas. He earned the last spot on this Bubble squad.
SNUBS:
Luka Doncic: 30 Pts 9.7 Ast 10.1 Reb 0.3 Stl 0.7 Blk 48.7 FG % 77 FT % 3-5 Record
Luka deserves all the praise in the world, but in the end it came down to him or James Harden and right now the Beard takes the cake. Luka is playing amazing basketball no doubt, but this has become expected of him. That's not to wave him off but I simply believe Harden and Kristaps have played at another level right now.
Giannis Antetokounmpo: 27.8 Pts 4.1 Ast 12.1 Reb 0.3 Stl 1.3 Blk 62.2 FG % 56.0 FT % 3-5 Record (out game 8 with suspension)
The reigning MVP is playing dominant basketball on every front (aside 3 point shooting and free throws), but he is playing sort of angry and it isn't a good look. He got away with a huge blow to Theis against the Celtics, literally punching Boston's big man in his groin. He also threw a temper tantrum when he headbutted Moritz Wagner after he got called for a blocking foul. All this is to say Giannis has been just as good as always, but he needs to be a leader for his team and little things like this can cost the Bucks big time if it isn't stopped.
Rookie of the Bubble: TIE
Tyler Herro: 17.4 Pts 3.8 Ast 5.1 Reb 0.5 Stl 0.2 Blk 51.5 FG % 100 FT % 3-4 (no 8th game yet)
Herro has played a nice slew of games in the bubble and has been a solid offensive threat for the underdog Heat. He has always been a bucket in college and it has translated nicely in the NBA but his isn't the only rookie who has put up nice numbers in Orlando. He is a lot of people's Rookie of the Bubble but to me he shares that honor.
Cameron Johnson: 13.2 Pts 2.1 Ast 5.8 Reb 0.7 Stl 0.5 Blk 52.1 FG % 100 FT % 8-0 Record
Cameron Johnson has come alive in Orlando like the rest of the Phoenix team has. He has been a consistent option for Monty Williams when he needed a bucket in the seeding games and has showed his potential to the front office. He is going to be a nice piece for the young Suns next season and has definitely gained some fans after his time in the bubble.
Defensive Player of the Bubble: Giannis Antetokounmpo
Although he was an All Bubble snub, no one can deny Giannis's defensive capability. Although his defensive stats look a little weird on paper compared to others, Giannis is a human log and anchor for Milwaukee's defensive success. He can lock down a point guard or a big man and does it with ease. He is going to need to cool his emotions down and dial in because the defensive assignments in the playoffs are never easy.
Coach and Team of the Bubble: Monty Williams and the Phoenix Suns
A lot of Phoenix's success in Orlando is thanks to Monty Williams. He is a great coach who believes in his young squad and got the whole team to buy his message and play with chemistry and passion. When you blend good coaching, good players, and everyone doing their part together you get what Phoenix gave in the seeding games, success. It is sad to see their magic come to an end, but Monty Williams and his Suns are going to be back and better next season.