The 2020 NFL Draft was a two-day event for the Chicago Bears, as they were without a first round pick for the second straight year due to the Khalil Mack trade. Former Executive of the Year Ryan Pace led the Monsters of the Midway in his 6th draft as GM of the Bears, with many key positions he needed to address. Heading into the draft, the biggest needs for the Bears were guard, safety, and cornerback. Tight end and coverage linebacker were also positions of need heading into the draft, but only to provide depth for starters.
Here, I will be grading every draft pick Pace and company made this past weekend, and at the end, a grade will be given to the 2020 draft class overall. Let's jump right in.
Round 2, Pick 43: Cole Kmet, TE, Notre Dame
Grade: (C+)
I debated for a while on whether this pick deserved a B- or a C+, but ultimately I decided on the latter. Kmet was the best tight end in the draft and youth at the tight end position is always great, but the Bears could've used the pick on a player that will start in 2020. Jimmy Graham is still the projected starter for the Bears, and Kmet will develop behind him, likely for the next two years. Kmet is now the 10th tight end under contract by the Bears, a number too high for any position outside of cornerback, no matter the team.
Round 2, Pick 50: Jaylon Johnson, CB, Utah
Grade: (A)
Johnson was the 7th corner off the board, but some analysts had him as the 3rd/4th best corner in the class. At Utah, he earned first team All-Pac-12 and second team All-American Honors while playing the entire season with a torn labrum. If he can ball out while injured, he should be even better healthy for the Bears. The Bears have one of their starting corners in Kyle Fuller and their nickel corner in Buster Skrine, so he will compete with Artie Burns and CFL free-agent signing Tre Roberson for the CB2 job.
Round 5, Pick 155: Trevis Gipson, ED, Tulsa
Grade: (C)
Gipson, a three-year starter out of Tulsa, was a perplexing pick by Pace. While Gipson was selected first team All-AAC as a redshirt senior, his tape shows nothing too impressive. He has explosive potential, but he beat AAC lineman with his pure strength, something that won't work against the likes of David Bakhtiari and Taylor Decker. Nonetheless, he still has strong upside and will be developing behind a Hall-of-Fame edge rusher in Khalil Mack, but the pick would've been better used on a position of immediate need.
Round 5, Pick 163: Kindle Vildor, CB, Georgia Southern
Grade: (B+)
Vildor has a very high ceiling, but has trouble tackling sometimes and struggles in certain zone packages, so his floor is relatively low. In man coverage, he was a great lockdown corner, which led to a second team All-American selection for him as a junior. As a senior, he was targeted a lot less frequently after he established his dominance in junior year, so he received less recognition in 2019. Vildor should be able to earn snaps at corner, if not on special teams.
Round 5, Pick 173: Darnell Mooney, WR, Tulane
Grade: (A-)
Matt Nagy and Ryan Pace clearly saw something in Darnell Mooney, as they traded two sixth round picks to the Philadelphia Eagles to draft him, as well as swapping 7th rounders. To be honest, I can't blame them. He has 4.38 speed and great versatility. He can line up in the slot or on the outside, on both sides of the field, and excels at catch and run plays, so Mitchell Trubisky won't have to throw too far downfield to get him involved, something Trubisky has struggled with since entering the league.
Round 7, Pick 226: Arlington Hambright, OL, Colorado
Grade: (B+)
Hambright is a very athletic prospect, but he is also very raw. He likely won't start in 2020, but has the potential to develop over the next few years. One thing in his favor is his versatility, as he can play almost anywhere on the line. He could find himself in a rotation role in a few years as a 6th-man plug and play a role similar to the likes of Dennis Kelly or Halapoulivaati Vaitai.
Round 7, Pick 227: Lachavious Simmons, OL, Tennessee State
Grade: (B)
The Bears took back to back linemen in the 7th round to provide depth for what was a spotty unit in 2019. At 6'5 and 315 lbs, "Pig" Simmons is one big fella, and had experience at guard and tackle in college. Simmons likely won't be anything spectacular, but he has the potential to be a solid rotation player along with Hambright.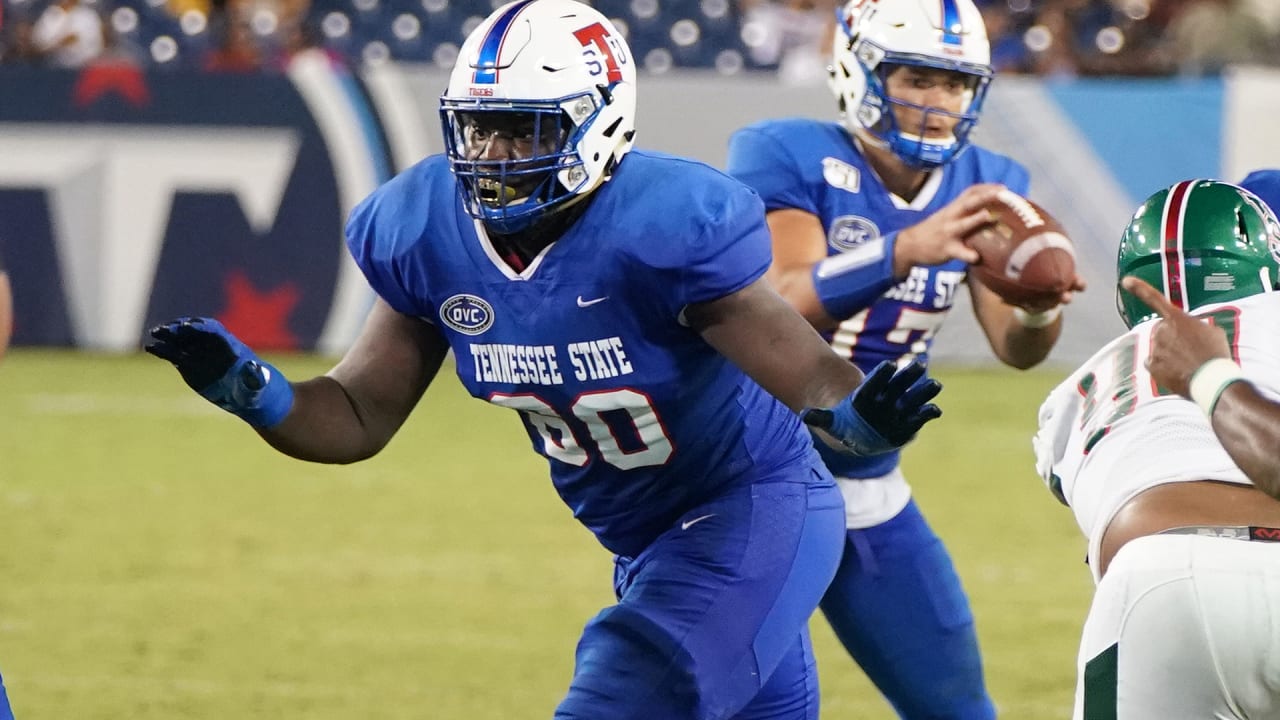 In addition to their 7 draftees, the Bears signed 11 undrafted free agents, the most notable being Ledarius Mack, a linebacker from Buffalo and the younger brother of Khalil Mack, and Oregon State running back Artavis Pierce.
Overall, Ryan Pace had a solid draft, but it could've been a little better. There is still a hole on defense at strong safety, but the Bears will have a plethora of defensive backs to employ in 2020. Pace didn't address the guard position, but that can be taken as a sign that he has confidence in new offensive line coach Juan Castillo to coach up his squad. Despite not having a first-round pick, the 2020 Bears draft class is a good one, so Pace and the rest of the front office deserve a solid B for their efforts.