With less than one month until the College Football Playoff is announced, the race for the top four spots is thinning out. In last week's CFP rankings, the committee showed favorability to the SEC, ACC, and Big Ten, while some felt the Pac-12 and independent BYU got a tough draw. Nonetheless, there are still three weeks for teams to make their case and move up in the rankings. Realistically, there are less than a dozen teams with a shot at the CFP, but nonetheless I'll be looking at each Power 5 conference and a few independents.
SEC
College football's strongest conference boasts three teams with legitimate playoff chances: (1) Alabama, (5) Texas A&M, and (6) Florida. Alabama and Florida are on a collision course for the SEC Championship, and the winner is essentially granted a spot in the playoff. If Alabama loses but keeps it close, they can likely hang on to the 4th CFP seed. If Florida blows out Alabama, a very unlikely scenario, the Crimson Tide will need other conference championship game results to get in. Texas A&M beat Florida, but their loss to Alabama means that they'll need some help. I'll elaborate later on all potential scenarios.
ACC
The second strongest conference is down to two teams, (2) Notre Dame and (3) Clemson. Notre Dame's win over Clemson, who were without presumed #1 pick Trevor Lawrence, gives them the edge in the ACC. The Fighting Irish and Tigers will play in the ACC championship, assuming neither team loses before then. The winner is a virtual lock for the playoff. If Notre Dame wins, Clemson is out, but if Clemson wins, Notre Dame still has a chance. Again, this scenario would depend on other results.
Big Ten
There is chaos in the Big Ten, with (8) Northwestern's shocking loss to Michigan State over the weekend and all of (4) Ohio State's COVID-19 concerns. Having already cancelled two games, Ohio State will have to play all of their remaining matchups in order to be eligible for the Big Ten title game. Their hypothetical opponent is Northwestern, who need one more win to clinch the Big Ten West. The Wildcats fell this weekend, but if they can win out and beat Ohio State, the committee will have to give them a fair look as the potential 4th seed. If Ohio State wins, they are likely in, but their strength of schedule pales in comparison to that of any other top-6 team.
Big XII
Per usual, the Big XII is beating itself up, with no teams having less than two losses. Iowa State have just one conference loss, but an opening weekend loss to Louisiana Lafayette put a dagger in their hopes. Oklahoma have looked good at times, and they look destined to play the Cyclones in the conference championship. The game will have no CFP implications, but it will be fun to watch Lincoln Riley's offense against Iowa State's strong defense.
Pac-12
It seems as if the Pac-12's decision to delay their season cost the conference a representative in the CFP. The conference has just three remaining undefeated teams and of those three only (18) USC is ranked by the committee. The weak Pac-12 hurts the strength of schedule of its teams, and with (15) Oregon losing this past weekend, the Pac-12 sending a team to the CFP is a longshot. If USC, or even Colorado or Washington, wins out with no cancellations, their 6-0 record in all probability is not enough to make the playoff.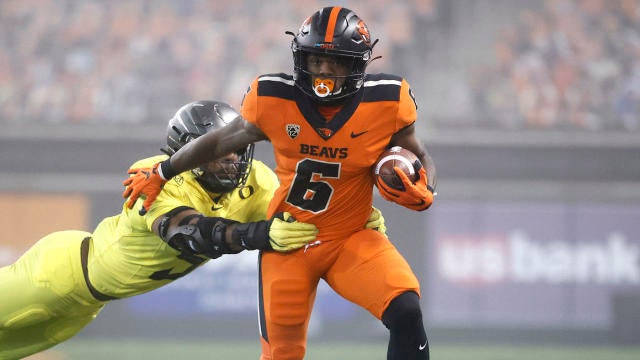 Independent/Other
Before the first rankings were released, many expected BYU to debut in the top 10, but the 9-0 Cougars landed at 14th. Their weak strength of schedule and independent status in this chaotic year have doomed their CFP chances. 8-0 Cincinnati (#7) has a better strength of schedule than BYU, and the Bearcats can achieve a 10-0 record and AAC title by winning out. However, that likely isn't enough. Even in a dream scenario, the Bearcats need Texas A&M to lose one of their last two games on top of three particular conference championship results.
Team Scenarios
These scenarios are under the assumption that each team wins the rest of their regular season games, unless otherwise denoted. There is lots of variability with the scores of each conference championship game, so the outcomes listed are what each team needs to reliably get into the CFP. The committee tends to favor 1-loss conference champions over regular 1-loss teams; the main criteria is strength of schedule and a conference championship win.
Alabama:
Win SEC Championship
Lose SEC Championship, Notre Dame beats Clemson
Lose SEC Championship, keep score close, Clemson blows out Notre Dame
Lose SEC Championship, keep score close, Ohio State barely beat Northwestern
Florida:
Texas A&M:
Alabama beats Florida, Notre Dame beats Clemson, Ohio State beats Northwestern
Notre Dame:
Win ACC Championship
Lose ACC Championship, keep score close, Alabama beats Florida
Clemson:
Ohio State:
Win Big Ten Championship, stay healthy/play all games, blow out Northwestern to boost chances
Northwestern:
Win Big Ten Championship (assuming they play undefeated Ohio State), possibly need Alabama win over Florida and/or Notre Dame win over Clemson, Texas A&M loss would help as well
USC/Colorado/Washington:
Win Pac-12 Championship, Alabama beats Florida, Notre Dame beats Clemson, Ohio State beats Northwestern, Tulsa beats Cincinnati, Texas A&M loses once
Cincinnati:
Win AAC Championship, Alabama beats Florida, Notre Dame beats Clemson, Ohio State beats Northwestern, Texas A&M loses once