April is around the time of the year when the draft rumors start to get serious. This year is no different. Here are my updated predictions on everything that could go down in about three weeks from now! Go check out my Instagram @gdn_scouting as well for more!
1. Jacksonville Jaguars – Aidan Hutchinson – Edge – Michigan
With the Jaguars doing a lot to sure up the offensive line early this offseason, the front office looks to have tipped us off that Aidan Hutchinson may be a Jaguar come late April. He is an elite player and should be a leader along that defensive front. 
Detroit Lions – Travon Walker – Edge – Georgia
To see Walker go this high is a bit of a headscratcher in my mind. I like him, but I don't think the athletic results are any indicator of how he will perform at the NFL level. However, Walker is still a solid player and maybe a good fit for Detroit. 
Houston Texans – Ikem Ekwonu – OL – NC State
Lovie Smith said he prioritizes a rushing attack on offense. Ikem Ekwonu can do that with his angry aggressive blocking attitude. He can also be slid inside to guard next to Laremy Tunsil and they can run with that as they work to rebuild and retool their team. 
New York Jets – Sauce Gardner – CB – Cincinnati
The Jets addressed a lot of needs in free agency, but one spot that remains somewhat open is the cornerback spot. I think both New York teams seem to like Gardner and he likely won't be available at ten, so they go with him here. 
New York Giants – Evan Neal – OT – Alabama
The Giants have a major need at the offensive line. Andrew Thomas is a good player, but they need to secure the right tackle spot. Obviously the best tackle and probably player on the board is Evan Neal so it'd be stupid if they pass up on a guy like him. 
Carolina Panthers – Kenny Pickett – QB – Pittsburgh
Malik Willis is still the best quarterback on the board, but it is no secret that Carolina likes Kenny Pickett. The most pro-ready out of the bunch, after a solid pro day, I think Pickett may be primed to go high here. 
New York Giants(via CHI) – Kayvon Thibodeaux – Edge – Oregon
I think Thibodeaux is a great pick here. It allows the Giants to finally answer the questions at the pass rusher position. Pairing Thib with Azeez Ojulari is a great move and the Giants look to add two blue-chip players to their roster here. 
Atlanta Falcons – Garrett Wilson – WR – Ohio State
The Falcons aren't looking great this season, but they still need to address the wide receiver position early. Garrett Wilson is said to be rated "higher than most think" and I believe that this is the first obvious landing spot for him.  
Seattle Seahawks(via DEN) – Charles Cross – OT – Mississippi State
Duane Brown is older and with the Seahawks looking to begin a total rebuild, I like Cross, a plug-and-play offensive tackle for them. He can immediately come in and be a franchise cornerstone for the Seahawks for a long time.
New York Jets(via SEA) – Drake London – WR – USC
Now with the cornerback position set with the Gardner selection, I could see the Jets targeting a new receiver to add to that offense and give Zach Wilson a chance. Drake London is by far the best receiver available and would be a tremendous fit at X receiver. 
Washington Commanders – Chris Olave – WR – Ohio State
The Commanders seem to be really into Chris Olave. I don't love him at 11, I think that is a massive overdraft, but he could potentially do some good out of the slot and is used to being in a crowded offense with many mouths to feed.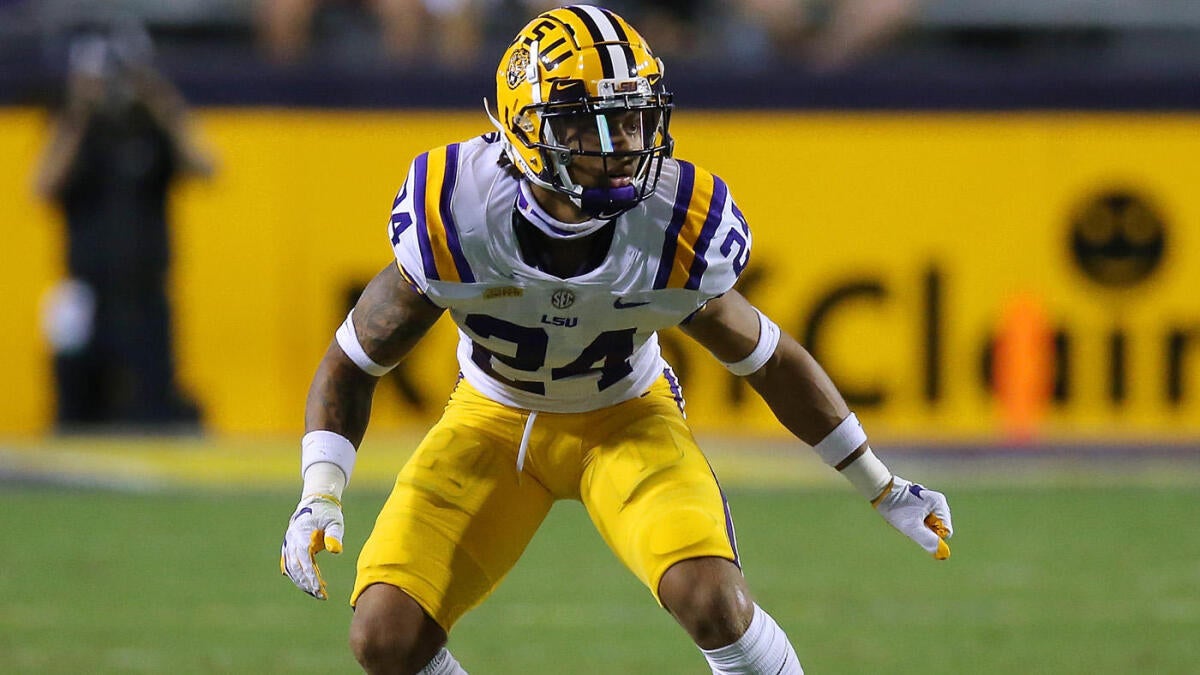 Minnesota Vikings – Derek Stingley Jr – CB – LSU
A guy like Stingley falling here would be the Vikings' dream. He is an elite prospect with the tools to succeed on the next level and only one pick after one of the worst overdrafts, we see one of the biggest steals in the draft occur. 
Houston Texans(via CLV) – Kyle Hamilton – S – Notre Dame
After a mediocre pro-day showing, Hamilton seems to be falling down boards. With the offensive line addressed and the departure of Justin Reid, if Hamilton falls to 13 for the Texans, they must take him. 
Baltimore Ravens – Jordan Davis – DT – Georgia
The Ravens could address several positions here, but with no amazing edge rusher on the board, I could see them settling for the best run-defender in the draft class. After Jordan Davis' stunning results at the combine, he is a near-lock in the top fifteen. 
Philadelphia Eagles(via MIA) – Trent McDuffie – CB – Washington
Trent McDuffie has been the consensus CB3. I don't see a lot of holes in his game and all around is a pretty solid corner. For the Eagles who need a big-time player to pair with Darius Slay, I think McDuffie would be a very good fit. 
New Orleans Saints(via PHI) – Malik Willis – QB – Liberty
My favorite quarterback in the draft takes a free fall to the 15th pick where the Saints can pick him up. Willis has the talent to be elite at the NFL level and I think he can develop into that dude. However, the Saints may have to move up to get him. 
Los Angeles Chargers – Trevor Penning – OT – Northern Iowa
The Chargers addressed the defensive line early on in free agency so now I think they look elsewhere to beef up that offensive line. I think Trevor Penning would be a good guard for them and could certainly make an impact on the Chargers' offense. 
Philadelphia Eagles(via NO) – Tyler Linderbaum – C – Iowa
Tyler Linderbaum is playing at a position that not many teams value. However, if he is available here, I think the Eagles need to draft him. That would give them an interior of Landon Dickerson, Jason Kelce, and Tyler Linderbaum.
New Orleans Saints(via PHI) – Jameson Williams – WR – Alabama
The Saints turn around with their next selection and take the electrifying Jameson Williams who I think pairs with Michael Thomas very well. This gives Malik Willis a WR2 or potential WR1 to throw to when he is able to take the field for the Saints. 
Pittsburgh Steelers – Devonte Wyatt – DL – Georgia
The Steelers may very well draft a quarterback with this pick at 20. However, with their defensive line getting older, it may be time to invest in a very good defensive lineman like Wyatt. Wyatt is capable of playing one-tech, but I see him playing three-tech on the next level. 
New England Patriots – Devin Lloyd – LB – Utah
Lloyd could essentially go anywhere in this first round, but I like the fit at 21 to the Patriots. He is a little raw and Bill Belichick would be the perfect type of coach to develop him into a very good outside linebacker on the next level. 
Green Bay Packers(via LV) – Christian Watson – WR – NDSU
After the trade of Davante Adams, I think the Packers must address the wide receiver position. Watson is a guy that has been rising throughout the offseason and his tape is super consistent. Imagine the Rogers to Watson connection deep. 
Arizona Cardinals – Jermaine Johnson – Edge – Florida State
After losing out on Chandler Jones, adding a new pass rusher is crucial. I like Johnson a lot and I feel he will very likely be the fourth edge off the board, this time to Arizona who needs one after Jones' departure
Dallas Cowboys – Kenyon Green – OL – Texas A&M
Green is a top-tier talent in my eyes. His versatility, power, and pass protection ability should have him going in the top fifteen, but the league doesn't feel that way so the Cowboys get him at 24. Green should be a successful replacement for Connor Williams here.  
Buffalo Bills – Breece Hall – RB – Iowa State
The Bills seem to be the only team here that needs to target a running back in the first round of the draft. I don't love taking one this high, but when they are on the clock again, a Hall or Kenneth Walker may not be on the board there, so they got to beef up their running back.
Tennessee Titans – Tyler Smith – OT – Tulsa
The Titans made the trade for Robert Woods from the Los Angeles Rams opening up the possibility that they go offensive line in the first round. Tyler Smith is a very good player and is sure to be the pick if Penning is gone here.  
Tampa Bay Buccaneers – Zion Johnson – OL – Boston College
The Buccaneers need to find someone to fill the void left by Ali Marpet. Zion Johnson is a very solid guard who should be able to lock up defenders in pass protection and keep Tom Brady safe as he plays with some of the best offensive line talent in the league. 
Green Bay Packers – George Karlaftis – Edge – Purdue
George Karlaftis is a very solid edge rusher, but it seems like he is falling down the draft board. Green Bay would get a big-time steal at 28. He should be a reliable replacement for the absence left by Zadarius Smith and the Packers would be on fire with these first two picks. 
Kansas City Chiefs(via MIA) – Skyy Moore – WR – Western Michigan
The Chiefs get the 29th pick from the Tyreek Hill trade and turn around to take a new receiver. Skyy Moore may not be as fast as Hill, but definitely has a lot of tools to succeed at the NFL level. He has also been linked to the Chiefs for a while. 
Kansas City Chiefs – Andrew Booth – CB – Clemson
Andrew Booth falls to the 30th overall selection where the Chiefs would be getting a great steal. Booth is a great athlete and will thrive in a zone-based scheme. I view him as CB3 personally and he would be a steal of a selection here. 
Cincinnati Bengals – Kyler Gordon – CB – Washington
The Bengals have addressed the offensive line in free agency with La'el Collins, now they can look towards the draft to bolster up other positions of need. Kyler Gordon is a pretty solid player and should be a slam dunk pick at 31.  
32. Detroit Lions(via LAR) – Nakobe Dean – LB – Georgia
Nakobe Dean is going to fall which makes no sense to me. He is an amazing talent and his tape is super consistent. He is one of a handful of players that are going to be steals in the draft and for a team like the Lions that are in desperate need of linebackers, he'd be an A+ pick.