Of course, Free Agency will always come around, and with that, the draft projections get distorted. This is my 2nd mock draft.
Trade is indicated by this: [[______]] .
1 – Cincinnati Bengals – Joe Burrow, QB, LSU
This can be seen as the obvious pick, as the Bengals would need to start fresh at QB if they truly want to rebuild their team. Zac Taylor finds his project QB here to build around.
2 – Washington Redskins – Chase Young, EDGE, Ohio State
This is the best player available and best overall in this draft. While they still have Ryan Kerrigan and Montez Sweat, Washington selects a player who can solidify the pass rush and breakout into an All-Pro caliber player when Kerrigan departs.
3 – [[TRADE]] MIAMI DOLPHINS – Tua Tagovailoa, QB, Alabama (Detroit Lions)
The Dolphins will go very aggressive to obtain one of the hottest QBs in the off-season. This is the new face of the Dolphins franchise, a guy who they can build around, and who may end up being the best QB in the AFC East on Day 1.
4 – New York Giants – Jedrick Wills Jr, OT, Alabama
Daniel Jones had serious trouble when it came to protection. Nate Solder struggled and Mike Remmers departed to the Chiefs. Jedrick Wills Jr is the most complete RT in the draft due to his combination of balance, power, and pass blocking. He is the most NFL-ready tackle in my eyes.
5 – [[TRADE]] DETROIT LIONS – Jeff Okudah, CB, Ohio State (Miami Dolphins)
The Lions' pass defense was terrible last season. This selection gives them an elite corner to pair with Desmond Trufant who can truly shut down receivers. Okudah is a necessary asset in the Lions' back end, especially in a division with receivers like Davante Adams, Allen Robinson, and Adam Thielen.
6 – Los Angeles Chargers – Mekhi Becton, OT, Louisville
Many speculate that Justin Herbert would be the ideal selection, but Anthony Lynn seems just fine with Tyrod Taylor as his bridge QB for 2020. Not only that, but QBs Cam Newton and Jameis Winston are still free agents who LA can definitely bring in. LT Russell Okung was traded to Carolina, which leaves a significant hole on the blindside that needs to be addressed. Becton is a 360-pound mauler who will do just that.
7 – Carolina Panthers – Isaiah Simmons, MLB/S, Clemson
This is an urgent pick for the Panthers. Not only will he remain in Carolina, but he will be the perfect ol' reliable for their defense due to his versatility. Keuchly retired, so he can be an asset at LB, Eric Reid was released, so he can be used at safety, and he can be filled in the slot as well. This is a match made in heaven.
8 – Arizona Cardinals – Derrick Brown, DL, Auburn
Now here, I originally had Tristan Wirfs. While I was making this mock, the Cardinals re-signed Marcus Gilbert. So now we will go to defense, where they have a weak interior d-line. Derrick Brown is the best run-stopper available, an area in which the Cardinals ranked 24th in run defense for 2019. Corey Peters is getting older, and they need an interior piece to fill in with newly acquired DL Jordan Phillips, who came off of a solid season in Buffalo, totaling 9.5 sacks.
9 – [[TRADE]] TAMPA BAY BUCCANEERS – Tristan Wirfs, OT, Iowa (Jacksonville Jaguars)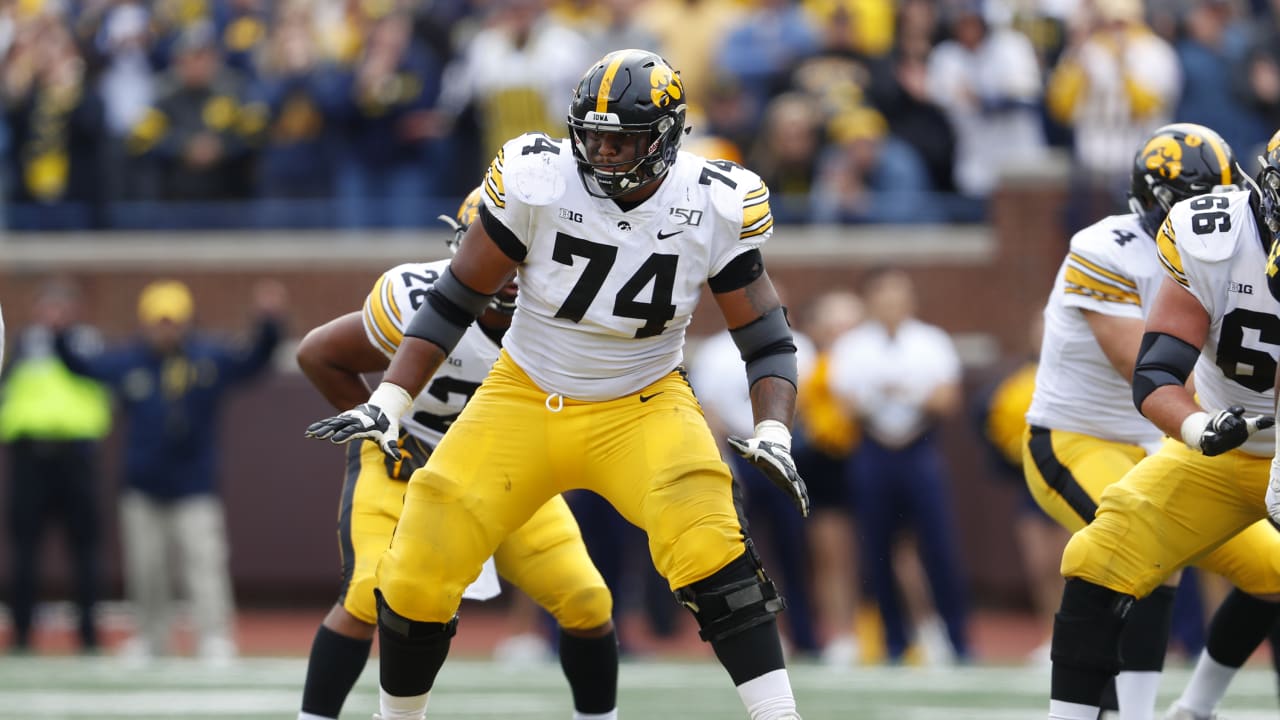 You have a star 43 year old QB in the backfield. You only have Donovan Smith, who is fairly inconsistent at LT and there's a hole at RT with the departure of longtime Buccaneer Demar Dotson. The best thing to do is trade up above teams like the Browns and Jets, who also need tackles. Wirfs demonstrates versatility, strength, and pass blocking superiority. This is the best choice for Tampa Bay if they want to protect Brady, something they struggled to do with Winston in 2019.
10 – Cleveland Browns – Andrew Thomas, OT, Georgia
Make that the 4th tackle taken in the top 10, but for a valid reason, like the Browns for example. Easy to say they need a LT with their loss of Greg Robinson, who was 157% not gonna be their long term option. Thomas will be the right guy to protect Baker Mayfield opposite of RT Jack Conklin.
11 – New York Jets – CeeDee Lamb, WR, Oklahoma
After losing Robby Anderson to the Panthers and with Quincy Enumwa's uncertainty on an NFL return after a second neck injury, this would be the best choice to fuel Sam Darnold's production, as the passing game struggled, finishing 29th in the league in that category.
12 – Las Vegas Raiders – Jerry Jeudy, WR, Alabama
The Raiders have a knack for taking players from big-name schools. Here they grab another stud from Alabama in Jerry Jeudy to fill in for what Antonio Brown should have been.
13 – [[TRADE]]San Francisco 49ers – Javon Kinlaw, DT, South Carolina (Indianapolis Colts)
Hey, they were not so confident when it came to paying DeForest Buckner. The 49ers go for a reload at defensive tackle to continue their onslaught and give them a Buckner replacement they don't have to crucially cash in for another 4-years.
14 – [[TRADE]] JACKSONVILLE JAGUARS – C.J. Henderson, CB, Florida (Tampa Bay Buccaneers)
The Jags are in the doghouse. Luckily, they're obtaining a 2nd-round pick from Tampa with this trade. However, coaching and management is on the hot seat. Players are giving Jacksonville a bad reputation with their poor management and discipline. With the low cap they currently hold, the Jags draft a stud man-to-man corner from Florida in C.J. Henderson.
They will need a corner after losing A.J. Bouye and Jalen Ramsey, not only that, but the failure of signing CB Darqueze Dennard in free agency will be a key factor. Look on the bright side. Henderson doesn't have to travel far.
15 – Denver Broncos – Henry Ruggs III, WR, Alabama
There is very little depth at WR and it'll only be a matter of time before defenses simply gameplan against Courtland Sutton. Lock gets another receiver and Denver has a nasty receiving duo of Sutton and Ruggs III in the Mile High city.
16 – [[TRADE]] NEW ENGLAND PATRIOTS – Justin Herbert, QB, Oregon (Atlanta Falcons)
Here it is, everyone. The big move of the draft.
The Patriots go aggressive and obtain their new franchise QB. After seeing Herbert seemingly drop, the Patriots would throw in their 1st and a couple of mid-round picks to a Falcons team that is low on cap space and looking for cheaper options when it comes to acquiring players. Herbert is NFL-ready, and demonstrates great football awareness, IQ, and maturity. The Patriots get themselves a true talent to build around.
17 – Dallas Cowboys – K'Lavon Chaisson, EDGE, LSU
After the Cowboys surprisingly parted ways with Robert Quinn, they go for the fearsome speed rusher from LSU, K'Lavon Chaisson. He should apply a lot of pressure and dominate in that new look defensive line with Demarcus Lawrence, Gerald McCoy, and Dontari Poe.
18 – [[TRADE]]Miami Dolphins – Josh Jones, OT, Houston (Pittsburgh Steelers)
The weakest position on that team is offensive tackle, and Jones was a reliable tackle in Houston. While he may need some development, on a thin offensive line like the Dolphins, he can make an immediate impact.
19 –[[TRADE]]Las Vegas Raiders – Kristian Fulton, CB, LSU (Chicago Bears)
This is the dream scenario for the Raiders. They get one of the best WRs in the draft at #12 and then a standout CB at #19. Fulton was a highly-rated corner with the Tigers and could compete for the starting job, joining a group with Trayvon Mullen, Eli Apple and Nevin Lawson.
20 –[[TRADE]]Jacksonville Jaguars – A.J. Epenesa, DE, Iowa (Los Angeles Rams)
Yannick Ngakoue announced that he will not be returning to the Jags, and even though they tagged him, they will be looking to trade him away (possibly for pick(s)). Epenesa is the poor-man's Calais Campbell replacement. He is one of the best power rushers in this draft, and can play both inside and outside on the d-line. He is the perfect guy to play opposite of Josh Allen.
21 – Philadelphia Eagles – Patrick Queen, LB, LSU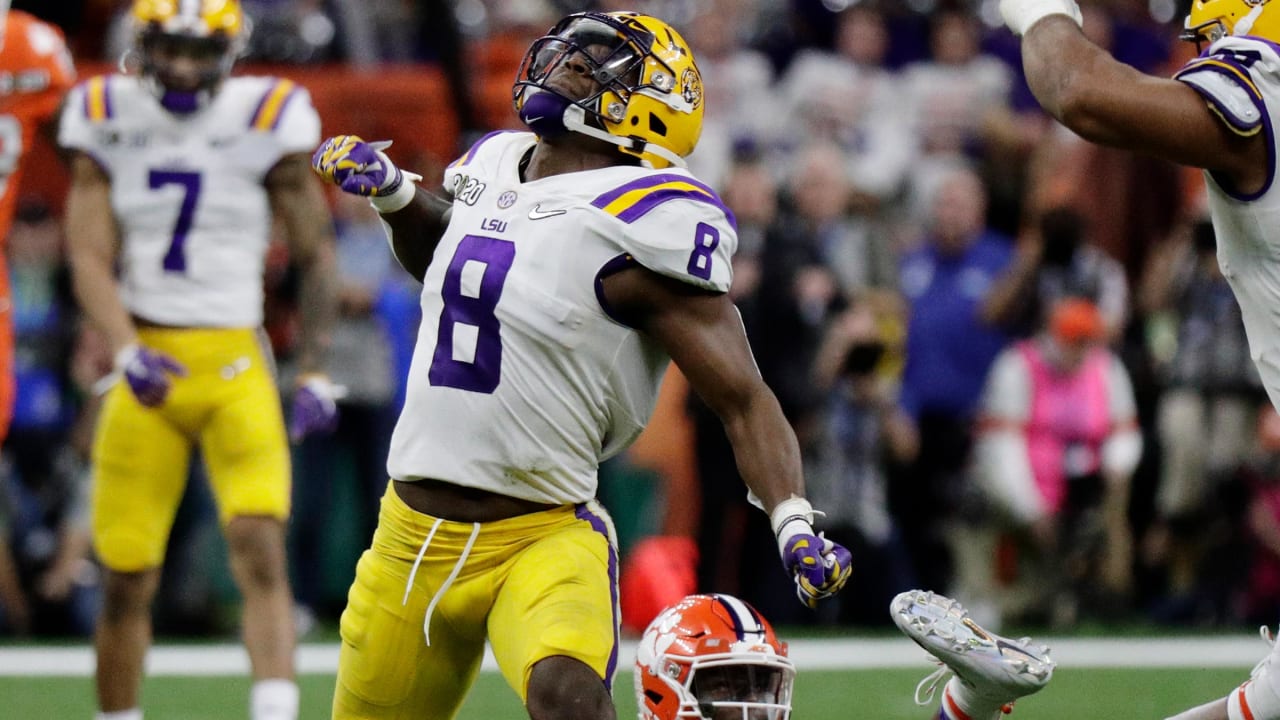 The Eagles are really lacking at LB, only having Jatavis Brown as a key acquisition in that part of their defense. Many would speculate the Eagles should draft a WR, but with the team's commitment to Alshon Jeffery, Desean Jackson, and J.J. Arcega-Whiteside, along with their focus on fixing the defense, this would be a key pick for them. The last time the Eagles were a scary team was when they had good linebackers, so this is the best pick for them.
22 –[[TRADE]]Minnesota Vikings – Jeff Gladney, CB, TCU (Buffalo Bills)
Mike Hughes and Holton Hill are the only starting caliber CBs the Vikings currently have. With the low cap space Minnesota has, they would need to shore up this position in the draft. Here they opt for Jeff Gladney, a standout shutdown corner from TCU.
23 – [[TRADE]] ATLANTA FALCONS – Kenneth Murray, LB, Oklahoma (New England Patriots)
The Falcons trade down and snag their ideal De'Vondre Campbell replacement. Kenneth Murray was a stout run stopper linebacker in his time in Oklahoma and should do well pairing with Deion Jones.
24 – New Orleans Saints – Trevon Diggs, CB, Alabama
Aside from Marshon Lattimore, the Saints need to get younger at the CB position. Janoris Jenkins is in his 30s and isn't a strong option anymore, and Patrick Robinson is turning 33 years old in September. Skill positions do not remain reliable at that age, and the Saints will go for a CB2 to pair up with Lattimore. The Saints opt for the playmaker Trevon Diggs to solidify that position for the future. A big bodied corner, Diggs would not be intimidated by larger receivers.
25 – Minnesota Vikings – Justin Jefferson, WR, LSU
An outside threat is needed after losing Stefon Diggs. Jefferson is a 6'1, vertical wide-out who can be a vital asset for the Vikings to continue their offensive production. They recently signed Kirk Cousins to an extension, therefore, they cannot let his contract go in vain.
26 – Trade Miami Dolphins – D'Andre Swift, RB, Georgia (Houston Texans)
Yes, Jordan Howard was signed, but he is mainly a power back. The Dolphins can in fact work Swift into their offense as their elusive back. Easily the best running back in the draft, he will complete a strong RB duo to complement Tua in the backfield.
27 – Seattle Seahawks – Yetur Gross-Matos, EDGE, Penn State
Now at the time of this mock draft, there is no telling if the Seahawks are re-signing or letting Jadeveon Clowney walk. But let's say that rather than pay Clowney, the Seahawks go for a sack machine from Penn State in Yetur Gross-Matos to go opposite of L.J. Collier. Gross-Matos totaled 17.5 sacks in his last two seasons, with 9.5 sacks in 2019.
28 – Baltimore Ravens – J.K. Dobbins, RB, Ohio State
Expect the top rushing offense in 2019 to continue their production. Dobbins is one of the top RBs in this class alongside Swift. Ingram is getting older and the Ravens are all about rotation in the rushing game. This is a luxury pick, as it allows the Ravens to groom him into a featured back in for the future.
29 – [[TRADE]] JACKSONVILLE JAGUARS – Xavier McKinney, S, Alabama (Tennessee Titans)
A potential trade that could take place. With the release of Cameron Wake, the Titans pursue edge rusher Yannick Ngakoue, who the Jags trade away for the Titans' late 1st round pick. The Jaguars' pass defense struggled in 2019, and obtaining Xavier McKinney to to that reassembled secondary with C.J. Henderson is crucial. Hopefully McKinney will apply help over top, pairing up with former teammate Ronnie Harrison.
30 – Green Bay Packers – Neville Gallimore, DL, Oklahoma
This is an athletic defensive lineman who is great against the run and can even get the QB. He would need development, but he is off to a good start after a great combine in Indianapolis. The Packers ranked 23rd in run defense, and would be looking to plug him in with Dean Lowry and Kenny Clark.
31 – San Francisco 49ers – Cesar Ruiz, OL, Michigan
The 49ers recently released RG Mike Person. This could be due to cap and the fact that they want to get younger at that position. If that's the case, then here's Cesar Ruiz. He has been progressively rising in draft boards and is the best interior offensive lineman of this draft class. He has good balance, power, and footwork to kill it inside.
32 – Kansas City Chiefs – A.J. Terrell JR, CB, Clemson
Not too shocking that the Super Bowl champion is low on cap space. In order to rebuild that secondary, they will go for A.J. Terrell, a cornerback who was excellent in man coverage. Because of the departures of Kendall Fuller, Bashaud Breeland, and Morris Claiborne, Terrell would be the best pick to pair with Charvarius Ward, Tyrann Mathieu, and Juan Thornhill.