With another NFL season soon ending, all eyes will soon be on another offseason of exciting change and surprise. Quarterbacks are not exempt from this change. Most years see at least a little bit of quarterback controversy and movement, commonly referred to as the "Quarterback Carousel". 2021 looks to be a special year for the carousel, as there are really only ten teams that would be 100% invested in their present options. Think the Rams, who just made the first blockbuster deal of the year acquiring Matthew Stafford after not being satisfied with Jared Goff. Of course there are some teams where moves are certainly less than likely, but most of the remainder is chock-full of clubs that would love to explore their options in the Draft, free agency, and the realm of trade.
Which teams are closed for business?
Before diving into destinations and explanations, some teams need to be categorized and exempted as openings from the carousel all together. These teams are not sellers at the moment. Some (Tampa Bay or Atlanta) could be considered buyers and draft quarterbacks of the future to develop under veterans, but nevertheless, those teams are not looking for immediate changes. Those quarterbacks considered safe are off-limits for the carousel.
Safe Teams
The first ten (below) were eliminated on the basis that they already have strong Quarterback situations and would not move on.
Arizona Cardinals– Kyler Murray
Baltimore Ravens– Lamar Jackson
Buffalo Bills– Josh Allen
Cincinnati Bengals– Joe Burrow
Cleveland Browns– Baker Mayfield
Kansas City Chiefs– Patrick Mahomes
Los Angeles Chargers– Justin Herbert
Los Angeles Rams– Matt Stafford (acquired via trade from Detroit)
Seattle Seahawks– Russell Wilson
Tampa Bay Buccaneers– Tom Brady (barring an unexpected retirement)
Tennessee Titans– Ryan Tannehill
Unlikely Teams
The next category belongs to those teams that could make moves for new signal-callers or look to move the ones they already have, but do not really have any good reason to at this time.
Atlanta Falcons– Matt Ryan is still an above-average passer and would be regarded as safe if the Falcons did not bring in a new regime or own the fourth overall pick in the draft. They could clean house, but Ryan's contract is very difficult to move (cap hit of $40.91M), and he should be a perfect fit in Arthur Smith's play-action oriented offense anyways. Taking a predecessor at 4 is not out of the question.
Green Bay Packers– While it's fun to think about Aaron Rodgers being on the move, it makes nearly as much sense to move off him as it did to draft Jordan Love (so not a lot of sense). Rodgers has two years left on his 4 year, $134,000,000 contract and just had an all but confirmed MVP season. Jordan Love's presence and a shaky-seeming relationship with Green-Bay's front office complicate things. Rodgers could request a trade, but it's in both parties' best interests to stay together.
Minnesota Vikings– Kirk Cousins is not exciting, but he is not a problem when compared to what Mike Zimmer referred to as "the worst defense he'd ever coached." The Vikings could draft a quarterback, but Cousins still plays at acceptably high level and the pick would be better served addressing the offensive line or the holes on defense.
New York Giants– Yes, Daniel Jones did not have a great year in 2020. However, he showed meaningful improvement in protecting the football as the year went on, dealt with numerous injuries, did not have his best weapon in Saquon Barkley, and was sacked a whopping 45 times. New York has plenty of resources to move on, but should be patient and invest more capital in building around Jones and the offense.
Which teams are in the market?
The next two lists of teams refer to teams that are or should be in the search for a new quarterback, while also looking to get value for the one they move on from. Not all of these teams are in position to buy or sell, but should at look into it.
Possible Teams
The Possible teams are those who could engage in a trade, draft a rookie, or move off of their present quarterback, but have at least one reason not to.
Dallas Cowboys– Not only is Dak Prescott a free agent this year, but he's also coming off of a major season-ending ankle injury. The Cowboys seem somewhat non-committal to Dak (opting to franchise tag him instead of giving him an extension), and after an incomplete fifth year the Cowboys could let him walk in FA. Dallas picks tenth overall in the draft and would be lucky to land a top prospect such as Zach Wilson or Justin Fields, so the best course of action would be to tag Dak for a second year and begin contract negotiations ASAP.
Detroit Lions– Dan Campbell and Co. could see what they have in newly acquired QB Jared Goff, but have the means to select the quarterback of the future in this year's draft. Before he was traded, Goff had interest from other teams looking for decent starters, so the Lions could prefer to move him to another team to get back some cap space and some amount of draft capital.
Las Vegas Raiders– Derek Carr played well enough in 2020 to likely be entrenched as Vegas' starter (again) next season. Carr's not the Raider's most pressing matter; the defense should be, but a significant upgrade at quarterback might mask some of those issues. Moving Carr would not be terribly hard and should be explored, but the Raiders are cap-strapped this year, so a move for Deshaun Watson or another veteran are unlikely. They could take a rookie, but chances are any QB available by the time Vegas is on the clock would not provide an immediate upgrade, barring a trade up.
Miami Dolphins– While Tua Tagovailoa did not have a bad rookie year, his start did not inspire nearly as much confidence as his fellow rookie passers Joe Burrow and Justin Herbert. Tua should have another season under normal circumstances to put it all together, but the Dolphins' excess of draft capital makes a blockbuster move for Deshaun Watson more than possible. Miami's situation is anything but certain, but there are plenty of positives to be found in sticking with Tua or going all in for Watson.
Philadelphia Eagles– The Eagles seem to want Carson Wentz to stick around. They fired Doug Pederson and hired the closest thing they could find to Frank Reich in hopes of fixing him. If Wentz can return to form under new HC Nick Sirianni, the Eagles won't be in this category long. If not, the consequences of Wentz's dead cap value of $59,220,614 or cap hit of $34,673,536 as a result of a cut or trade will sting. Jalen Hurts' presence would be comforting under most circumstances, but could also bring along familiar controversy if he bests Wentz in camp. Either QB could garner a good amount of trade interest or be a formidable starter should the other be moved.
Pittsburgh Steelers– The Steelers are a bit stuck at the moment. Ben Roethlisberger has still not said whether or not he will return for the final year of his deal or retire. A cut or trade would be nearly impossible due to lack of market interest and Roethlisberger's massive cap hit of $41M. The options behind Roethlisberger are not very promising either: Mason Rudolph has not proved in his limited opportunities to be a franchise quarterback and Dwayne Haskins may not even make the 53 man roster. The Steelers pick late in the first round and are in cap hell this year, not an ideal place.
Definite Carousel Teams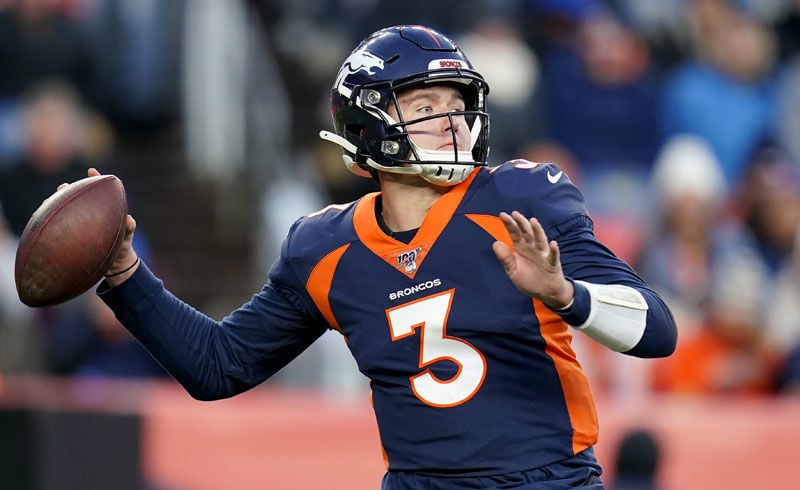 The following definite teams have no present option at quarterback whatsoever, or have been rumored to be active in this year's market. The following
Carolina Panthers– Teddy Bridgewater has another year on his contract, but the Panthers are in prime position to take a rookie passer with the eighth overall pick in the draft to sit behind him. The Panthers were also in talks for Matt Stafford and will likely be aggressive in talks surrounding Deshaun Watson.
Chicago Bears– Mitch Trubisky came on hot in the last few weeks of the regular season, but fell flat again in the playoffs. He may have overstayed his welcome in Chicago, but the bears may not really have any other options but to bring him back considering their cap situation and their draft position.
Denver Broncos– The Broncos have been searching for a franchise quarterback for what feels like ages. The Drew Lock experiment isn't looking good at all and it's time for a change. The Broncos could make a big move on draft night or explore costs of some veterans.
Houston Texans– The Houston Texans are in trouble. Star Quarterback Deshaun Watson wants out desperately and shows no signs of changing his mind. The only upside is the massive haul that would come from moving Watson (thanks in part to the Rams for setting a baseline for any further blockbuster deals left to be made this offseason).
Indianapolis Colts– The Colts do not have any quarterbacks under contract this year beyond Jacob Eason and most likely will not bring Jacoby Brissett back. GM Chris Ballard has expressed his opinion in favor of going the veteran-route, it just remains to be seen who the Colts acquire for a roster on the cusp of Super Bowl contention.
Jacksonville Jaguars– Jaguars fans should have no consternation about their present situation. Trevor Lawrence will be a Jaguar. No further comments.
New England Patriots– The Patriots have a hefty amount of cap space this offseason and could take on a bigger contract of an above-average starter such as Matt Ryan or decent options like Jared Goff or Jimmy Garoppolo, but could also land Trey Lance or Mac Jones with the 15th overall pick in the Draft. New England could go all in for Deshaun Watson, but they aren't the most attractive option with their lackluster variety of offensive weapons.
New Orleans Saints– Supposing Drew Brees retires as expected, the Saints will have to navigate through cap hell in order to ink Jameis Winston for at least another year. Taysom Hill is a possibility, but not a realistic one. The Saints would explore their options in the draft but will likely only have a shot at Alabama's Mac Jones or Florida's Kyle Trask.
New York Jets– The Jets have plenty of ammunition to: A) Build around Sam Darnold, B) Package in a mega-deal for Deshaun Watson, C) Draft a rookie like BYU's Zach Wilson or OSU's Justin Fields at 2nd overall and build around around him while moving Darnold. All of these options are possible, the Jets just need to pick one.
San Francisco 49ers– Jimmy Garoppolo's release would save the 49ers $24.1 million in cap space and a significant upgrade at QB would help San Francisco regain the throne atop the NFC West gauntlet.
Washington Football Team– Alex Smith could return, but Washington wants more from the Quarterback position and doesn't seem to be looking for a rookie.
Predictions
Carolina Panthers
Final Prediction: Teddy Bridgewater starts, Justin Fields is chosen after a trade up with the Miami Dolphins for the 3rd Overall pick
While a Watson move would be fun here, Carolina does not have a whole lot to offer in attractiveness as a landing spot and anything the Panthers would give up (i.e. Stars like Christian McCaffrey and DJ Moore) would just make the spot less appealing. It isn't all bad for Panthers fans though, by keeping a young core intact and affording a year for Fields to sit behind Bridgewater, the future is bright for a competitive and growing unit.
Chicago Bears
Final Prediction: The Bears let Mitch Trubisky walk in Free Agency, sign Jameis Winston for two years
Jameis Winston could be in line to receive the starting job in New Orleans with the retirement of Drew Brees, but the Saints likely do not have enough cap space to sign him to a contract comparable to whatever Chicago could throw at him. The Bears want an upgrade at QB, and after a year learning from Sean Payton, Winston could be just that. He comes with some risk, but can push the ball downfield. This move allows Chicago to keep its picks and address the offensive line and receiver positions in the draft.
Dallas Cowboys
Final Prediction: The Cowboys tag Dak Prescott for a second year and get to work on a long term extension
After seeing how awful the Cowboys looked without Dak at the helm in 2020, Jerry Jones finally breaks the bank for his franchise quarterback, but only after tagging him for a second year.
Denver Broncos
Final Prediction: Denver retains Drew Lock, trades a 2021 4th round pick for Gardner Minshew
Denver has a glut of offensive talent that could intrigue Deshaun Watson, but the Broncos decide to give Lock another go on a much shorter leash and acquire a high end game-manager in the Jaguars' Gardner Minshew. Worst case scenario neither pan out and Denver is left in prime position to take a franchise QB in next years' draft seeing as most teams' quarterback situations get dealt with this season.
Detroit Lions
Final Prediction: The Lions stick with Jared Goff, address defense in the draft
Having Goff's massive contract on the books is not desirable, but all the former first overall pick may need is a change of scenery to get things right. Here the Lions elect to move forward with their guy and address their porous defense.
Houston Texans
Final Prediction: Deshaun Watson is Traded to the San Francisco 49ers for Jimmy Garoppolo, DE/LB Dee Ford, 2021 1st (12th overall), 2021 2nd, 2022 1st, 2023 1st
The Texans are already in such a bad situation and the the only foreseeable way out of it is to move Star QB Deshaun Watson for a chance at a future. Here the Texans get plenty of future ammunition for GM Nick Caserio, a familiar face for him in former Patriot, Jimmy Garoppolo, and a pass rusher to either pair with or replace JJ Watt, Dee Ford.
Indianapolis Colts
Final Prediction: Carson Wentz is traded to the Indianapolis Colts for a 1st round pick
Though it means taking taking on his hefty contract, the Colts give up their first round pick for Carson Wentz with the hopes of helping him get back to form under his former OC Frank Reich. The Colts missed out on Matt Stafford, but are still able to get a decent starter at worst and an MVP candidate at best.
Jacksonville Jaguars
Final Prediction: Jaguars draft Trevor Lawrence with the first overall pick, sign Tyrod Taylor as a backup
There really is no other option here for the Jaguars, and no better way to kick off a new era with Urban Meyer at the helm. Congratulations, Jacksonville.
Miami Dolphins
Final Prediction: The Dolphins stick with Tua, trade 3rd overall pick to the Carolina Panthers for more picks to address the offense
A Dolphins team with Deshaun Watson would be an immediate Super Bowl contender, but one with various holes on offense regardless of who's at the quarterback position. Here Brian Flores and Chris Grier elect to go with Tua and use more picks to bolster an inexperienced offensive line, lackluster backfield, and most pressing, a weak passing attack.
New England Patriots
Final Prediction: Patriots draft Mac Jones 15th overall, sign Andy Dalton for two years
New England finds itself a quarterback of the future and signs a formidable starter/backup until the time comes for Jones to start. The offensive weapons still need a great deal of improvement.
New Orleans Saints
Final Prediction: Drew Brees retires, Jameis Winston inks deal with Chicago, Taysom is the starter, and the Saints take Kyle Trask in the draft
Even if the Saints were able to move just below the salary cap, they likely would not have enough to engage in a bidding war with another team for Jameis Winston. Taysom Hill was limited as a passer, but still won 3 of his 4 starts and would benefit from an entire offseason entrenched in the starting role. The Saints also take their quarterback of the future in Florida's Kyle Trask with the 28th pick in the Draft.
New York Jets
Final Prediction: Jets select Zach Wilson 2nd overall, sign Ryan Fitzpatrick
A blockbuster move for Deshaun Watson would be more than possible considering the Jets' assets, but instead the Jets choose to select Zach Wilson at two and build around the BYU star, while also signing a phenomenal mentor for him in journeyman Ryan Fitzpatrick.
Philadelphia Eagles
Final Prediction: Carson Wentz is traded to the Indianapolis Colts for a 1st round pick, Jalen Hurts becomes the starter
Probably not the result the Eagles would have in mind here, but Philadelphia gets a generous return for a disgruntled employee with a huge contract. Wentz would net another first round pick which could be used to target areas of need such as the offensive line, receiving corps, or secondary. Jalen Hurts is given a full year as starter to pick up where he left off.
Pittsburgh Steelers
Final Prediction: Roethlisberger returns for one final year, Steelers look toward free agency in 2022
Roethlisberger hasn't seemed too committal toward the idea of retirement and comes back for one last ride with hopes of going on a deeper playoff run than in 2020. The Steelers could draft a successor in the 2nd round, but they will have a lot of money off the books in 2022 to go after a high-end passer in free agency, so they choose to be patient and improve the running game and offensive line in the draft.
San Francisco 49ers
Final Prediction: Deshaun Watson is Traded to the San Francisco 49ers for Jimmy Garoppolo, DE/LB Dee Ford, 2021 1st (12th overall), 2021 2nd, 2022 1st, 2023 1st
Sure, three first round picks, a second, and two starters sounds like quite a lot, but take into account that San Francisco does not intend to pick so high in the first round in the near future with Watson at the helm, and it makes sense. It's hard to imagine Watson turns down an opportunity to play for Kyle Shanahan in the Bay Area against other NFC West powerhouses.
Washington Football Team
Final Prediction: Washington trades a 2021 3rd and a 2021 5th for Sam Darnold, retains Taylor Heinicke
After missing out on Deshaun Watson and Matt Stafford, the Washington Football Team moves a bit of draft capital for Sam Darnold, who can be plugged into the starting lineup right away and help push Washington over the hump and into perennial playoff (and perhaps Super Bowl) contention. Taylor Heinicke is retained as an interesting and more than capable backup.