Often when we think of words or people in our heads, we subconsciously associate adjectives or other nouns that reflect our feelings or opinions of them. NFL quarterbacks are no exception, so here I'll be giving a connotation to each starting QB in the NFL, beginning with the AFC. The order will be based on the 2019 regular season standings, with the current projected 2020 starter. Credit goes to fellow TSW journalist Michael Vanko for the idea.
Lamar Jackson: Swagger
Half the times I think of Lamar, I picture the reigning MVP chilling on the bench, wearing his iconic shades after demolishing the Bengals. Jackson set the league on fire in 2019 with his snazzy footwork and highlight reel ankle breakers. Whether he's under center at M&T Bank Stadium, enjoying the 4th quarter off after an impressive showing, or addressing his doubters in a press conference, Lamar simply carries himself well and possesses an authentic aura of awesomeness.
Honorable Mention: Doubted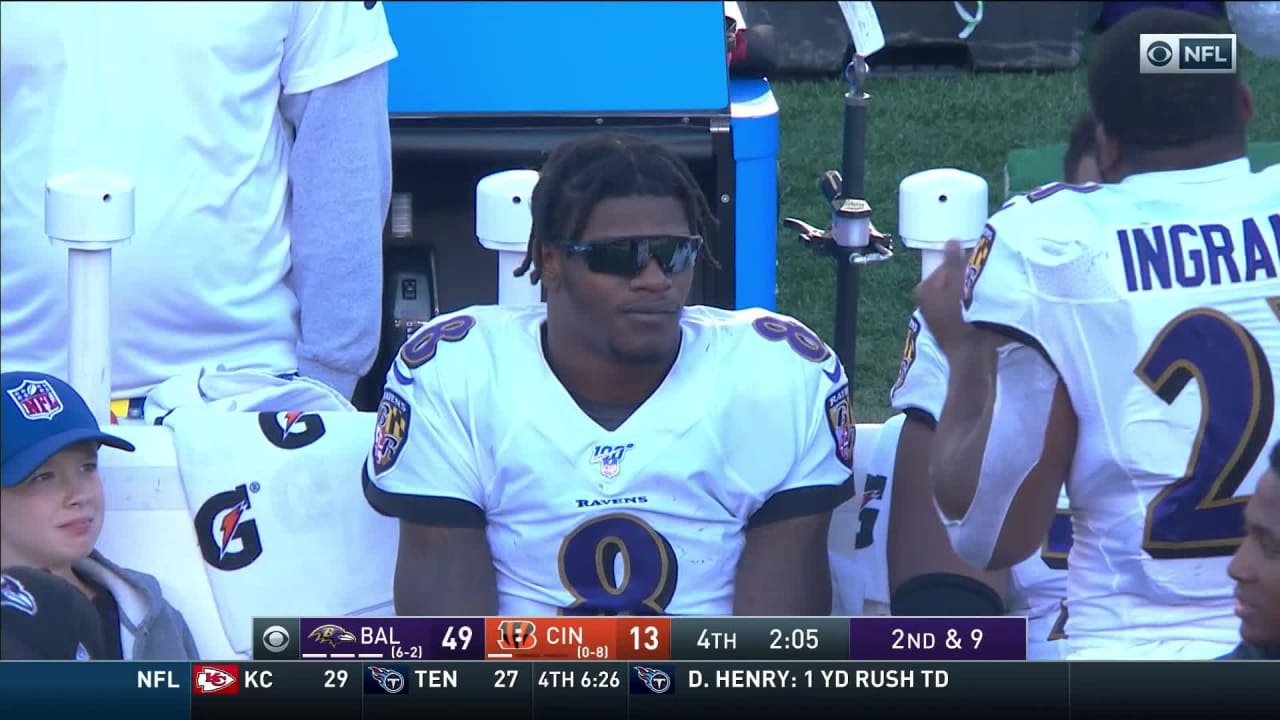 Patrick Mahomes: Clutch
With a playoff record of 4-1 in just two postseason trips, Mahomes has quickly adjusted to the big stage of the NFL. No deficit is too great for the best player in the league, as Mahomes can turn your 10-point lead into his 10-point lead in a matter of minutes. He did so in every single playoff game this past season, and while points are a team statistic, Mahomes is certainly the most important contributor for the Chiefs.
HM: Bazooka
Jarrett Stidham: Questionable
Very few people can give a definite answer as to how Stidham will perform in 2020. The limited tape on him from 2019 doesn't reflect well on him, but he only attempted 4 passes the entire season. He did spend a full season learning the offense from the greatest coach-quarterback duo ever, and as Patrick Mahomes and Aaron Rodgers can attest to, a redshirt year can be great for development. Stidham has a low floor and still has to beat out Brian Hoyer in training camp, but he will be a player to watch out for in 2020.
HM: Kylo Ren
Deshaun Watson: Withheld
Watson has proven himself to be a top-5 signal caller in just his third year in the league, with no thanks to Bill O'Brien. If it weren't for BOB's antics on the field and in the front office, Watson would be leading a Texans team considered Super Bowl contenders by many. Instead, they now stand as a worse team than in 2019, and Watson will have to clear yet another team-imposed obstacle.
HM: Unlucky
Josh Allen: Showtime
The stage is set for Allen to prove himself as a top-10 QB in 2020. With a plethora of weapons in Devin Singletary, Stefon Diggs, and John Brown, Allen is primed to reign atop the AFC throne. In order to succeed he'll have to fix his issues with the deep ball, but his athleticism and arm may just be enough to win one the weakest divisions in the NFL. Anything less will mean disappointment for Bills Mafia.
HM: Boom-or-Bust
Ryan Tannehill: Inconsistent
The Tennessee Titans took a big chance when they gave Ryan Tannehill a 4-year deal worth $118 million to make him the 9th highest paid QB in the NFL. Tannehill has yet to show that he can be an elite starting quarterback for a full season, but he has shown flashes. If he can continue playing at a high level and lead the Titans to another playoff berth, all concerns will be addressed.
HM: Resurgence
Ben Roethlisberger: Big
Big Ben is arguably the most famous nickname for a player in the NFL. The famous tower in London becomes an afterthought to NFL fans when they hear the phrase "Big Ben." At 241 lbs, Roethlisberger certainly is one big fella, but his corpulence may not be around for much longer. Big Ben is nearing the end of his time, and 2020 could mark the end of his largely successful career (Pun intended).
HM: Old
Drew Lock: Weapons
After trying 6 other tall white quarterbacks in the post-Manning era in Denver, John Elway seems to be set on Lock as the future of the Broncos. To reward him for his 4-1 record as a starter in 2019, Elway went out and added a hand of weapons in the offseason, including Melvin Gordon, Jerry Jeudy, KJ Hamler, and Albert Okwuegbunam. Lock's supporting cast, which also includes Noah Fant, Philip Lindsay, and Courtland Sutton, is one of the best in the league, and he is primed to breakout in 2020.
HM: Blessed
Derek Carr: Do-or-die
Few people remember a time of justified optimism for the Raiders, when it looked as if Derek Carr was a top-10 QB. In 2016, Carr posted career numbers and led the Raiders to a playoff berth. 3 years and one unfortunate broken leg later, Carr has failed to replicate the success that once garnered him 6 MVP votes. If he can't step it up in 2020, Jon Gruden won't hesitate to replace him, as Marcus Mariota waits on the bench for the slightest slip up by Carr.
HM: Collapse
Philip Rivers: Kids
NFL internet culture has burned the concept of Philip Rivers and his "weak pull out" game into my brain whenever I hear of him. Nearly half of all mentions of Rivers on NFL Instagram and Twitter accounts are clowning on him and his fertile organs below the waist. Google autocompletes "Philip Rivers" as "Philip Rivers kids" for one of its options, due to the devout Roman Catholic having 9 offspring.
HM: Last Dance
Sam Darnold: Unfortunate
Other than Dwayne Haskins Jr., arguably no young QB was in a worse position in 2019 than Sam Darnold. He had bottom-tier weapons, with only one reliable pass catcher in Robby Anderson, an offensive line that gave up 33 sacks in 13 games, and the worst head coach in the league in Adam Gase. Darnold has clear cut talent and went 7-6 as a starter, but he'll need some things to change if the Jets want to see him succeed.
HM: Ghosts
Gardner Minshew: Mania
After Minshew's elite play (For a rookie) and unique social life became mainstream knowledge in the early 2019 season, the phrase Minshew Mania was welded into the minds of many NFL fans, myself included. With a struggling Jaguars team, Minshew will have to do just about everything to keep the mania alive. He has the overall worst supporting cast in the league, and it remains unknown as to whether or not he will be the future in Duval.
HM: Tanking
With #TankforTrevor among the hopes of Jags fans, keeping his starting job in the long run will be an uphill battle for Minshew
Baker Mayfield: Cocky
When you talk the talk and fail to back it up with elite play, an image of swagger turns to cockiness. After the 2018 season and offseason, Mayfield and the Browns appeared to be on the rise following their first semi-successful campaign in years. We all know the rest, and now Mayfield will have to prove himself yet again. Maintaining a low public profile for now should help, but he will have trouble shedding his past image of a headstrong young gun.
HM: Commercials
Tyrod Taylor: Bridge
The unfortunate truth with Tyrod Taylor is that he is no longer viewed as a legitimate starting quarterback around the league. In Cleveland, Taylor was the bridge to Baker Mayfield and in LA he certainly will be in the same situation with Justin Herbert. He was named the starter for the upcoming season, but it is clear that the Chargers view Herbert as their future. Pending an unlikely career revival, expect Taylor to be on the bench by midseason.
HM: Chances
Ryan Fitzpatrick: Journeyman
Fitzpatrick is arguably the most interesting and smartest quarterback in the NFL (He is a Harvard graduate, set the QB Wonderlic test record with 48, and finished in the shortest amount of time of ANY player ever). That being said, he is passed around the league like a joint in downtown Portland. Fitzpatrick has played for 8 teams in his 15-year career, never spending more than 4 years with a single team. A textbook journeyman, the Amish Rifle has carved himself a unique spot in NFL internet lore. Never change, Fitzy.
HM: Veteran
Joe Burrow: Potential
As it stands currently, Burrow is the only rookie quarterback projected to start Week 1. That will likely change, with Tua Tagovailoa and Justin Herbert, later in the season, but for now Burrow has the rookie stage all to himself. He dominated last season LSU, and deserved to be the Heisman and #1 pick, but the NFL is a much bigger pond than college football. If everything goes well for him, Burrow can end up having an exceptional career like one of his draft comparisons, Kurt Warner.
HM: Unproven