We are almost midway through the college football season, and we are starting to have a better idea of who is rising up draft boards and who is falling out of first-round contention. While there still is a ways to go until the draft, it is always fun to predict and project how things will turn out well in advance. (Draft order based on current order per Tankathon.com)
1. Houston Texans
Will Anderson, EDGE, Alabama
Houston kicks things off here by taking the best player available in Will Anderson. While taking a QB is absolutely in play, Davis Mills has played relatively well considering his situation, not to mention Mills has the upside to be an above-average starter in the NFL. Build around him.
2. Carolina Panthers
CJ Stroud, QB, Ohio State
The Baker Mayfield experiment has not panned out, and while they did draft Matt Corral in the third round earlier this year, it's safe to say Stroud is a massive upgrade for a roster that is really not that bad. The Ohio State product has an NFL frame and a lively arm that is deserving of being drafted this high.
3. Las Vegas Raiders
Jordan Addison, WR, USC
Wouldn't it have been fun to take a QB here? This is a difficult position to draft in as there are no real positional needs that'd be worth drafting this high. While Derek Carr has struggled mightily this season, his newly-signed contract makes it very difficult for Vegas to draft a QB. Jordan Addison does feel like a reach here, but the NFL is starting to understand the trend of how valuable good wide receivers can be for mediocre quarterbacks. Addison immediately fills the void as the fast, twitched-up WR2, for the Raiders, which was supposed to be occupied by Henry Ruggs.
4. Philadelphia Eagles (Via NO)
Myles Murphy, EDGE, Clemson
While Myles Murphy has had an up-and-down season this year for Clemson, the upside is very appealing. Philadelphia does not have any real needs at the moment though Brandon Graham is getting up there in age, at 34 years old.
5. Pittsburgh Steelers
Joey Porter Jr., CB, Penn State
In 1999, Joey Porter Sr. was drafted by the Pittsburgh Steelers where he eventually went to three pro bowls. I'm not just plugging this pick in here for the fun of it, though. Joey Porter Jr. has been lockdown this season for the Nittany Lions, allowing just 9 receptions, while tallying 8 pass breakups. He is absolutely deserving of this pick, for a team that needs CB help badly.
6. New England Patriots
Jaxon Smith-Njigba, WR, Ohio State
The Patriots have not had a legitimate WR1 in years and Mac Jones has struggled due to that, especially this season. In an offense that revolves around getting the ball out quickly, JSN fits the mold perfectly, similarly to Julian Edelman and Wes Welker in the past.
7. Washington Commanders
Bryce Young, QB, Alabama
Young slides a bit in this mock draft due to a lack of QB-needy teams at the top of the draft order. The Carson Wentz experiment has failed miserably for the Commanders and the roster is too talented to keep waiting on a franchise QB. Young is an elite QB prospect despite being about 5'11" and thin-framed. He is probably the most mentally-advanced QB prospect we've seen since Joe Burrow.
8. Detroit Lions
Jalen Carter, IDL, Georgia
Carter is easily the best player available and Detroit is looking to finish rebuilding the defense. While QB is a need here, the Lions have another first-round pick if they want to go in that direction, or they could stick with Goff if the right QB isn't there for them.
9. Indianapolis Colts
Michael Penix, QB, Washington
The southpaw transfer from Indiana has made his mark for the Huskies this season, throwing 16 TDs to just 3 INTs thus far. Penix has a big arm with great velocity alteration and an ability to extend plays under duress. While this may feel like a reach at the moment, Penix has all the tools to be picked even higher than this.
10. Atlanta Falcons
Broderick Jones, OT, Georgia
The Falcons' offensive line has been incredibly weak for years now outside of guard, Chris Lindstrom. Broderick Jones stays in-state in this scenario, lining up to be the LT of the future.
11. Houston Texans (Via CLE)
Michael Mayer, TE, Notre Dame
This is the second of the Texans' two draft picks, after taking Will Anderson first overall. Mayer is a do-it-all TE who can block relatively well but would be drafted for his high-end receiving ability.
12. Seattle Seahawks (Via DEN)
Christian Gonzalez, CB, Oregon
The Seahawks have back-to-back picks here and I'd be fine if they stuck with Geno Smith at QB for another year or so. Smith is currently PFF's highest-graded QB, and it shows while watching him play. While I wouldn't mark him as a "franchise QB," he should be able to stay around for a little while longer. While Tariq Woolen (and the CB group as a whole) has shown promise, Christian Gonzalez should round out that defensive backfield nicely.
13. Seattle Seahawks
Ivan Pace, LB, Cincinnati
I know what you may be thinking. Who the heck is Ivan Pace? Pace has been elite this season, grading out as PFF's highest-graded defender in all of college football. Racking up 8 sacks and 43 tackles through 5 games, the Cincinnati LB has shown he deserves to be talked about as a mid-first-round pick. The league is looking for these linebackers who can stuff the run and pass rush, all while being fine in coverage; Pace fits the mold of the modern-day LB that every team wants to get their hands on.
14. Los Angeles Chargers
Olumuyiwa Fashanu, OT, Penn State
The Chargers have a bottom 10 pass block and run block unit this season. Fashanu has been climbing up draft boards and would be a perfect schematic fit for the Chargers' offense.
15. Arizona Cardinals
Cam Smith, CB, South Carolina
The Cardinals have the worst defensive unit in the NFL despite having some talented pieces in the front 7. Their CB room is awful and Cam Smith is the best CB available by a wide margin.
16. Detroit Lions (Via LAR)
Will Levis, QB, Kentucky
All works out for Detroit, who took Jalen Carter eighth overall, as they land their QB of the future in the big-armed, stout-framed QB from Kentucky. Levis is a bit of an older prospect, but the upside may be too good to pass up at this point in the draft, especially for a team like the Lions who are ready to take the next step.
17. New York Jets
Blake Freeland, OT, BYU
The 6'8" athletic freak, Blake Freeland has been quietly elite this season. Zach Wilson's former RT, while at BYU, has tons of experience at LT and RT, both potential positions of need for the Jets.
18. Chicago Bears
Paris Johnson, OT, Ohio State
I'd be lying to you if I said I thought Chicago would win more than one game this season, but here they are sitting at pick 18 four weeks in. Fields may be out of Chicago soon if he keeps playing as poorly as he has, but taking an offensive line should be of high priority.
19. Baltimore Ravens
Trenton Simpson, LB, Clemson
The Ravens' defense has been terrible this season and Trenton Simpson is likely the best defensive player available at a position of need. Simpson, much like Pace, fits the mold of the modern-day LB, being a good pass rusher and run defender, along with the coverage upside to be elite.
20. Miami Dolphins (Via SF)
Peter Skoronski, OG, Northwestern
While I do think Skoronski is an IOL at the next level, Miami needs a RT very badly, and I don't mind plugging Skoronski there. At worst, he struggles and you move him to guard, but if you're Miami, you have to figure out grabbing your blindside blocker for the lefty, Tua Tagovailoa.
21. Tampa Bay Buccaneers
Bryan Bresee, IDL, Clemson
Bresee has fallen too far, and Tampa Bay feels like a good fit. While they did just draft Logan Hall in the second round of the 2022 draft, starters Akiem Hicks and William Gholston are 32 and 31 years old, respectively. An interior of Vita Vea, Logan Hall, and Bryan Bresee, in a year or two, would be very fun.
22. Cincinnati Bengals
Cooper Beebe, OG, Kansas State
Cincinnati's offensive line, despite being revamped this offseason, has done nothing but struggle. They have the 5th worst pass block unit, and 3rd worst run block unit, so far according to PFF. Beebe is an incredible athlete with the ability to move defenders with ease. He will immediately make the IOL better in both pass blocking and run blocking.
23. Tennessee Titans
Jaelyn Duncan, OT, Maryland
The Titans' pass block unit has been terrible for years, and LT Taylor Lewan has been the weakest link, whether he is struggling on the field or constantly hurt. Duncan is a little rawer of a prospect, but he is incredibly nimble and athletic at 6'6" and 320 lbs.
24. New York Giants
Darnell Washington, TE, Georgia
This is a tough position for the Giants to be in; they need a QB, but Anthony Richardson will likely return to school, Tanner McKee (while I do like him) feels a lot like Daniel Jones, and I'm not ready to discuss DJ Uiagalelei as a first-rounder. Here, the Giants take the massive, athletic TE from Georgia, Darnell Washington. Washington is the best blocking TE in this class, while still being an above-average receiver with the ability to create YAC.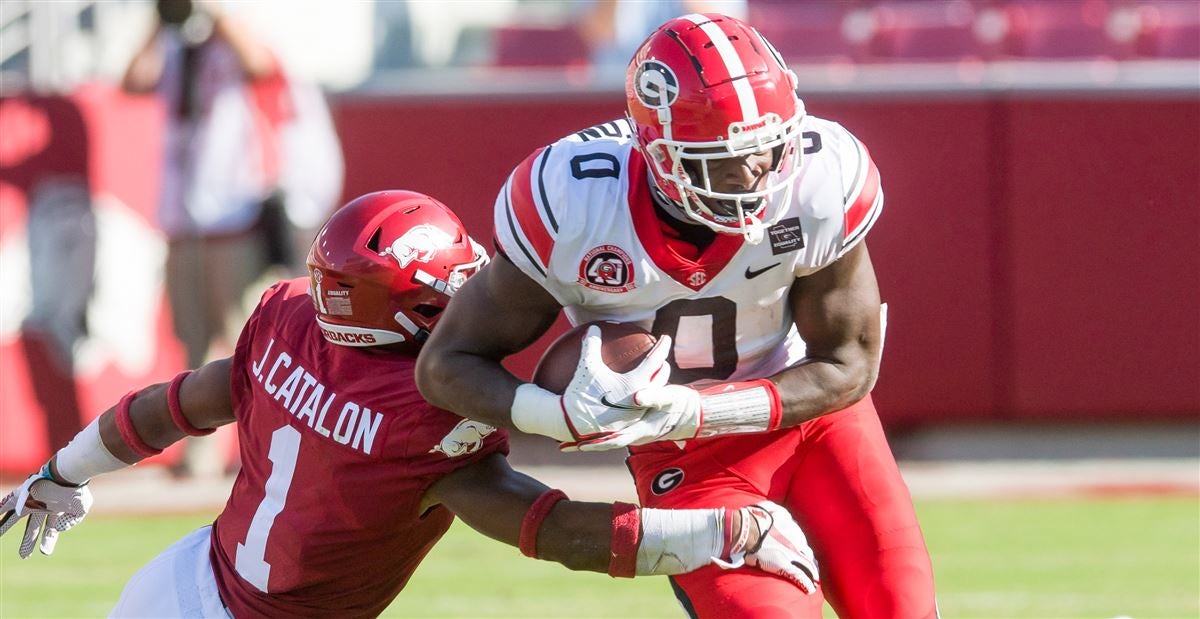 25. Jacksonville Jaguars
Xavier Hutchinson, WR, Iowa State
This WR class has looked awful early in the college football season. Kayshon Boutte and Quentin Johnston have struggled massively, but Xavier Hutchinson, who was my WR3 entering the season, has shined, racking up 504 yards and 5 TDs through 5 games. Hutchinson has a versatile release package, can run the full route tree, and has elite ball skills.
26. Buffalo Bills
Bijan Robinson, RB, Texas
The Bills' run game has yet to pick up this season, as the three Bills running backs, combined, have totaled 271 yards, 0 touchdowns, and 3 fumbles, through 4 games. Bijan is arguably the best RB prospect since Saquon Barkley.
27. Dallas Cowboys
Kelee Ringo, CB, Georgia
Trevon Diggs has had a very solid 2022 season so far, but the rest of the CB room has struggled to gain their footing. Ringo has had a rough start to the season for Georgia, but the upside is undeniable, much like Trevon Diggs when he came out of Alabama.
28. Green Bay Packers
Kayshon Boutte, WR, LSU
Man, Boutte has been bad this season. I think it is likely he will return to school (or probably transfer) but he is so athletic and is very similar to what Green Bay had in Davante Adams. The Packers need WR help badly, and a trio of Boutte, Romeo Doubs, and Christian Watson does not sound bad for the next 3+ years.
29. Kansas City Chiefs
Tyree Wilson, EDGE, Texas Tech
I'm sure Wilson will be picked higher than this, come April, but for now, the lengthy, athletic, twitchy edge defender falls to the Chiefs. He would pair up very well with 2022 first rounder, George Karlaftis.
30. Minnesota Vikings
Drew Sanders, LB, Arkansas
Sanders is a carbon copy of former Vikings LB Anthony Barr; a guy who can cover a little bit, and can stuff the run well, but is going to do most of his damage as a pass-rushing LB. Sanders will draw playstyle comparisons to Cowboy's star, Micah Parsons, and will likely be taken earlier than we can foresee right now.
Miami Dolphins Pick Forfeited
31. Philadelphia Eagles
Jahmyr Gibbs, RB, Alabama
Everyone is looking for the next Deebo Samuel, and Jahmyr Gibbs fits the mold. Great pass catcher who can take carries as well. I'm not a big fan of his vision, but in the open field he can tear up defenses; In the Eagles' offense, Gibbs would be a cheat code.